Guyanese shipping company John Fernandes Ltd. is looking to extend its reach in the oil and gas sector with the construction of a storage facility. John Fernandes Ltd. has already been building its oil and gas portfolio by providing support services to industry giants like ExxonMobil, Halliburton, Saipem, Baker Hughes, and Schlumberger.
The complex, which is expected to be constructed at Plantation Fairfield, Mahaicony, East Coast Demerara, will be used for the repackaging of products into tanks, filtering of products as they are repackaged, and transportation of the inventory to supply vessels once a check has been done for quality control.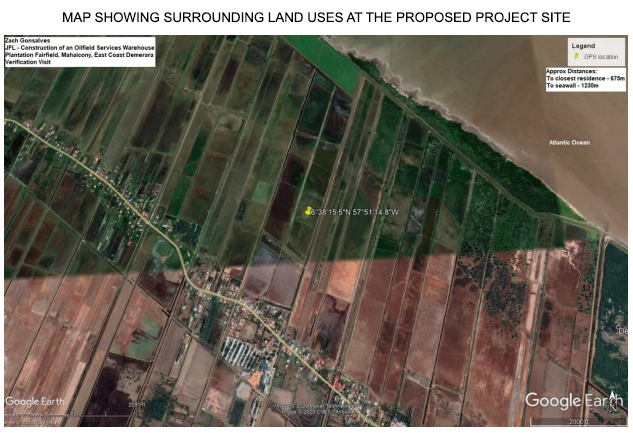 The company, according to the project summary that was lodged with the Environmental Protection Agency (EPA) for review, intends to store materials such as Asphaltene Inhibitor, Corrosion inhibitor, Biocide, Biocide Filter, Hydrate Inhibitor, Demulsifier, Chlorine Scavenger, Defoamer and Hydrate Inhibitor. The products will be stored in ISO Tanks constructed from 316 stainless steel. It was keen to note that material compatibility, material specific gravity, vapour pressure, and flash point are key elements which feed into the decision on the kind of container selected and used for transport and storage as well as the full weight of the material.
It further noted that it intends to comply with the United Nation's package performance standards to ensure safety and regulatory adherence to laws and regulations.
With respect to the facility, the company said that it will be 5,000 square metres, built to international standards with the entire site having containment and controlled stormwater run-off to prevent pollution. It will also be outfitted with office and quality control trailers for a personnel firefighting system to support local fire service in the unlikely event of a fire. There will also be spill kits positioned strategically within the chemical handling and general storage area.
John Fernandes Ltd. already provides a range of services to the oil and gas sector such as crew change, customs brokerage and logistics along with facilities that include shore base and laydown yards.