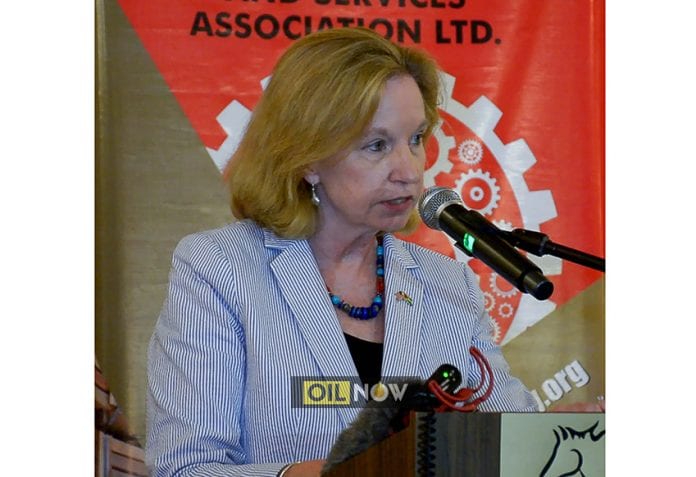 In order to be effective, Guyana's Natural Resources Fund (NRF) must be non-partisan. This is according to U.S Ambassador, H.E. Sarah-Ann Lynch.
She made these remarks during her speech at the Guyana Manufacturing and Services Association Limited's (GMSA) Business Luncheon on Tuesday, June 25.
Speaking on the topic of NRF – which is the South American nation's Sovereign Wealth Fund – the U.S Ambassador stated that such a fund must be independent, transparent, inviolable, and nonpartisan.
"This need for stability and accountability across the years," she noted, is why the fund needs to be non-partisan.
"The fund must be non-partisan.  It is for the good of all Guyanese, regardless of political persuasion, hometown, or ethnicity.  Nor is it just for today's Guyanese, but for your children, your grandchildren, and even your grandchildren's grandchildren," the Ambassador stressed.
"The NRF must not be tied to any part of the political machinery.  This is not about politics; it is about economics," she emphasised.
The GMSA – as a Private Sector organization which will have an input in the fund's management – she said, must play a role in ensuring that "the decisions your organizations make are impartial, objective, and free from political bias so that they remain focused on economics rather than politics.  This will help keep the fund non-partisan, giving your counsel on the fund more respect, and so more weight."
Guyana does not yet have an established Natural Resources Fund, but the Natural Resources Fund bill was passed and assented into law back in January. The Ambassador reminded those gathered that the legislation that was passed provides for oversight of the fund by independent committees "comprised of individuals who are not beholden to any interested entity."
"This is important because no process can be considered truly independent if it is controlled by persons who stand to benefit inordinately from a particular outcome, whether financially, politically, or in other ways," she said, adding that the legislation also provides that the Public Accountability and Oversight Committees will have representation from private sector bodies including the Bar Association of Guyana, the Guyana Press Association, and the Private Sector Commission (PSC).
"I urge you to continue taking a leading role working with the PSC, as well as educating the populace to ensure the NRF is implemented in a way that can make all Guyanese proud," Ambassador Lynch urged the members of the GMSA.
Transparency, she continued, is another important factor in the management of the fund, adding that "fiscal transparency refers to something more."
The Diplomat stated, "It means publication of high-quality information on how a government, or an independent Natural Resource Fund, receives, spends, and manages a public resource.  The GMSA should push to ensure transparency at all phases of implementation."
She further pointed out that the legislation provides that the Minister may, "through a competitive and open procurement process, hire an investment advisory services company to provide advice on fund investments."
"In all likelihood, this would be a private sector company.  The GMSA and other private sector agencies can exercise due diligence to ensure that this advisory company is competent and reputable and advise the Government as it develops its shortlist of potential firms," she noted.
Continuing, she said, "You can constantly advocate for regular public disclosure of the investment objectives of the NRF, its funding, withdrawals, and spending, as well as other pertinent information, to help ensure that there is no misuse of the Fund and that all of Guyana benefits from its operation."
She said the fund will play a very important role in the economy, and now that a framework is in place, it should remain in place for the foreseeable future.  "Of course, as times goes on, amendments and adjustments may be needed, but time is now short and it is critical that the framework remain," she opined.
The GMSA's role in this, she added, would be to advocate and ensure that the fund remains sacrosanct.  "Political fortunes ebb and flow, but a Sovereign Wealth Fund and its defense must be constant across all governments for decades to come, so that all those current and future governments remain accountable for staying true to the spirit of the fund and keeping it alive.  This requires a constant, pervasive message regardless of who is in power at any given time," she reminded.