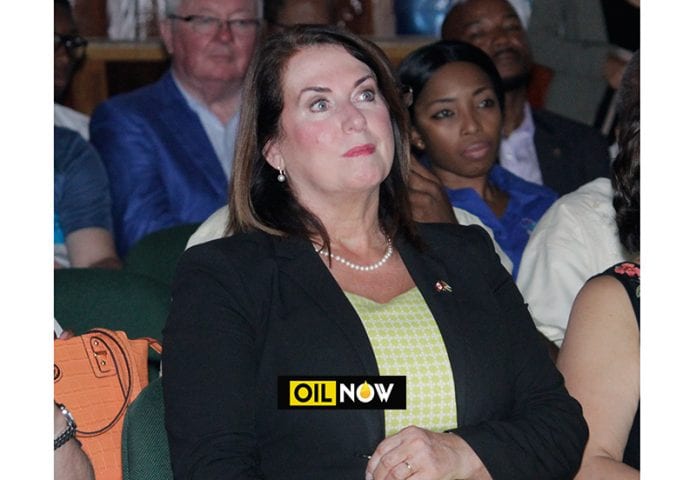 Minister of Natural Resources from the Canadian Province of Newfoundland and Labrador, Siobhan Coady, is encouraging Guyana, as an emerging oil and gas producing nation, to look at how best the country can benefit from "knowledge transfer" in the oil and gas industry.
During an interview on Monday at the Marriott Hotel in Georgetown, she said this type of knowledge transfer has been responsible for the growth of the industry in the Canadian Province.
She explained that, "One of the things that we did in Newfoundland and Labrador that we benefited from are joint ventures with other countries and others in the supply and services industry. So we grew our supply and services industry by inviting in experts and companies from around the world that are already in offshore oil and gas and they came in and joint venture partnered with our local supply and service industry and helped them grow so it was a good knowledge transfer."
The Canadian Minister noted that this is exactly what the renewed partnership between Guyana and the Newfoundland and Labrador Province is hoping to achieve.
She declared, "Now what you are seeing is Newfoundland and Labrador giving Guyana the knowledge transfer so that as you move forward and develop your own services sector you can past that along to somebody else as well because that is what you really want to do is kind of develop all the opportunities for your own country."
In the continued development of the Canadian oil and gas industry, she said, its main focus is on first, full and fair opportunities.
"That is the advice I have been giving to the Government of Guyana in terms of as they move forward and making sure that things happen for the Guyanese people," she added.
Speaking specifically on the activities taking shape in the Canadian jurisdiction, the Minister highlighted that, "What is happening is that we have five producing projects offshore Newfoundland and Labrador and producing about 240, 000 barrels of oil per day and we have a plan for about 650, 000 per day. It has certainly transferred our economy and has helped us to diversify in some ways and to ensure that we have good benefits to the people of the Province of Newfoundland and Labrador."
Over 5000 of people are directly employed in the Newfoundland and Labrador oil and gas industry and Minister Coady said, "What this has done is I think grown our economy, giving the Government good royalties for reinvestment for our people and has certainly grown our supply and services sector and have given us some good opportunities for growth."
Minister Coady is in Guyana as part of a four-day Canadian trade mission, where over 50 Canadian entrepreneurs are in the South American country to explore opportunities for partnerships in the oil and gas sector.