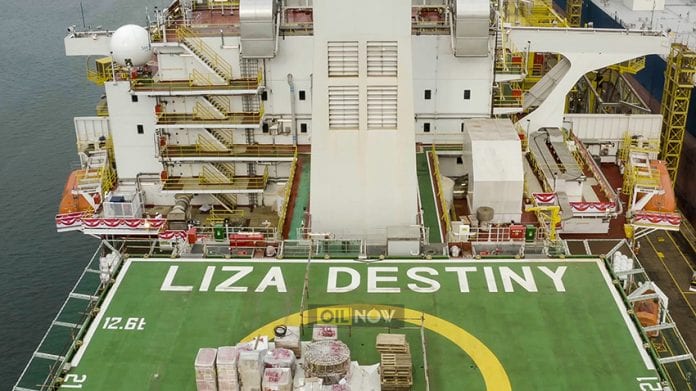 The crew that is onboard the Liza Destiny—the  Floating, Production, Storage and Offloading (FPSO) vessel that is currently en route to Guyana—has been engaging in emergency response activities and other safety training while the vessel travels to the South American country's offshore waters.
This was disclosed by ExxonMobil's Senior Director, Public and Government Affairs, Deedra Moe. She was at the time speaking on Infohub – a televised broadcast in Guyana.
The vessel departed the shipyard in Singapore on July 18, and according to Moe, it is on track to arrive in Guyana in September.
"Liza Destiny is actually currently in the Indian Ocean on its way. It will be travelling through that ocean, down around South Africa and then it will be coming straight over to Guyanese waters in early September," she stated.
Speaking about the activities currently occurring onboard, she said, "We're actually using two tugs to kind of bring it along to make sure that everything goes safely, and everything is maintained. It's a lot of activities onboard the vessel…the team onboard is doing emergency response activities and continuing their training as well, while they're on the sail-over."
A Mammoth Destiny
Giving some insight into the vessel itself, Moe shared that the mammoth vessel is more than 350 metres in length. "That's more than twice the size of Providence Stadium so there's kind of more than two…it's almost three. So, in terms of length, it's very, very large," she emphasised. In terms of height, the FPSO is as tall as the Lighthouse located at Kingston, Georgetown.
The FPSO has a capacity of 1.6 million barrels of oil. Explaining how it functions, in terms of production and storage, Moe stated that the wells that are being drilled will be connected to the vessel via flow lines.
The FPSO, she said, "will clean up the oil, remove the water, it will remove any natural gas and then separate it….and then store it…then it will offload onto tankers. And once it offloads onto tankers, those tankers will be sold on the market and that's when revenues come in."
Liza Phase 1 is expected to produce up to 120,000 barrels of oil per day at peak while Liza Phase 2 will see production double.  "The next vessel is going to be built for up to 220,000 barrels…almost double the size. So, you know, it will be larger but that's well under way," Moe said, referring to the Liza Unity FPSO to be used in the second phase of the development in Guyana.
Dutch floater specialist SBM Offshore has been contracted by ExxonMobil to install, lease and operate both the Liza Destiny and Unity.
The Liza field is located in the Stabroek block, which covers almost 27,000 square kilometers, circa 200 kilometers offshore Guyana. Esso Exploration and Production Guyana Limited is the operator and holds a 45 percent interest in the Stabroek block.