A growing number of Guyanese women are entering the Oil and Gas sector as offshore operations in the South American country continue to expand in wake of multiple discoveries at the prolific Stabroek Block and beyond.
Since 2015, ExxonMobil has made a record 16 discoveries at the Stabroek Block, UK-based Tullow Oil has made 2 at Orinduik and Repsol has made 1 at Kanuku, making the total oil strikes so far offshore Guyana 19.
But it is ExxonMobil whose operations have taken on particularly significant proportions. Speaking to OilNOW in a recent interview was the company's Public and Government Affairs Advisor, Janelle Persaud. She said ExxonMobil Guyana has identified women empowerment as one of its focus areas and to date, there are nearly 400 Guyanese women supporting the company's various activities on and offshore.
The official was keen to note that women have roles across Exxon's operations from business services, procurement, safety, health and environment, and technical services providers. She also disclosed that two are being trained in Canada and will soon return shortly to support Operations and Maintenance offshore on the Liza Destiny FPSO, which is producing oil at the Stabroek Block.
With respect to its corporate social responsibility, the ExxonMobil official said that the company continues to partner with several non-governmental organizations to implement various projects geared at improving the lives of women. These include most recently, a project by the Blue Flame Women's Group to upgrade an existing factory which produces cocoa sticks, coffee and cassava bread in Region One and another by WeLead Caribbean for skills development in the areas of human resources, business, branding and packaging in Regions Two and Three.
Further to this, the Public and Government Affairs Advisor said, "We have also partnered with Cerulean Inc. on a project to enhance the economic development of Mainstay/Whyaka  through capacity building in the areas of Hospitality and Tourism and Small Business Development."
Additionally, Persaud said that ExxonMobil supports the Global Women in Management programme, which provides training and skills development for women community leaders. She also shared that the company has so far sponsored four Guyanese women over the last three years to attend the three-week training.
In November 2019, a group of women in Guyana, intent on forging a pathway that leads to playing a major role in the country's emerging oil and gas industry, launched the country's first Women Chamber of Commerce and Industry (WCCIG).  "We want to be examples for young girls that they don't only think of a career or business in the oil and gas industry as offering admin/clerical support but contributing significantly in technical and senior managerial positions as well," said Co-creator, Lyndell Danzie-Black.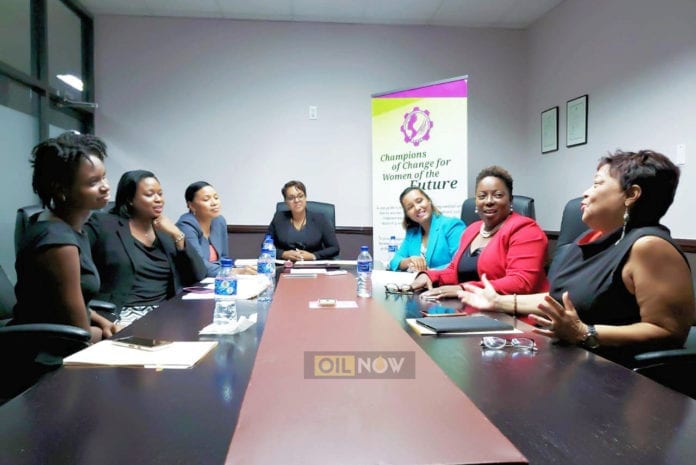 WCCIG was established and founded by Danzie-Black and Kerensa Gravesande-Bart in June 2019 in recognition of the need for a collective voice to assist women to achieve success and economic independence through business ownership and self-employment.
Gravesande-Bart, who also owns the first 100% Guyanese-owned recruitment company to be providing services to the industry, has told OilNOW WCCIG will be working in tandem with the private sector to step up efforts to engage women more meaningfully in the workforce – particularly in leadership positions. "WCCIG will promote private and public sector efforts to address barriers to women's career advancement such as discriminatory practices, withholding of information, equal and fair access to business opportunities and capital," she said.
Oil production began in Guyana back in December 2019, moving the previously little-known South American country into the global spotlight, thereby providing growing opportunities for its people, both women and men alike.