ExxonMobil's new solar-powered local head office which is to be built at Ogle will provide electricity to the Georgetown power grid.
So says President of ExxonMobil Guyana, Alistair Routledge, speaking at the recent 132nd annual awards ceremony of the Georgetown Chamber of Commerce and Industry (GCCI).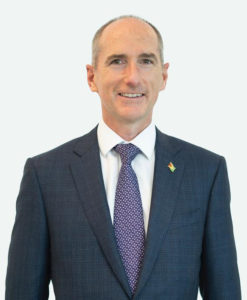 "While we advance the gas-to-energy project, our Ogle office is being constructed with net zero energy footprint powered by solar," he said. "The solar array will help to generate surplus electricity, which will be dispatched to the power grid in Georgetown, consistent with Guyana's low carbon development strategy."
The company is looking to build a large office complex that will be constructed on a green field 15-acre site comprising two 3-story office buildings with associated infrastructure and a net-zero energy footprint.
In recent months, suppliers, contractors and specialist sub-contractors have been invited to submit Expression of Interest (EOI) to provide services for the new head office.
Nabi/KCL Oilfield Construction Services Guyana has secured the contract for the construction of the facility.
The office complex will be constructed on land adjacent to the Ogle International Airport.