In its most recent report on Guyana, oil and gas industry analyst Wood Mackenzie says the Stabroek block fiscal terms ranks well compared to several other countries with similar circumstances regarding indicators such as State share, payback period and price resilience.
The Stabroek block, operated by ExxonMobil, with co-venturers Hess and CNOOC, has become part of the oil and gas lexicon following the giant Liza discovery in 2015 and the multiple oil strikes since then. Production there commenced in December 2019. The block has a resource estimate of over eight billion barrels of oil equivalent.
WoodMac benchmarked the Stabroek Production Sharing Agreement (PSA) against countries with similar characteristics and this showed that Guyana's terms are in the middle of the range.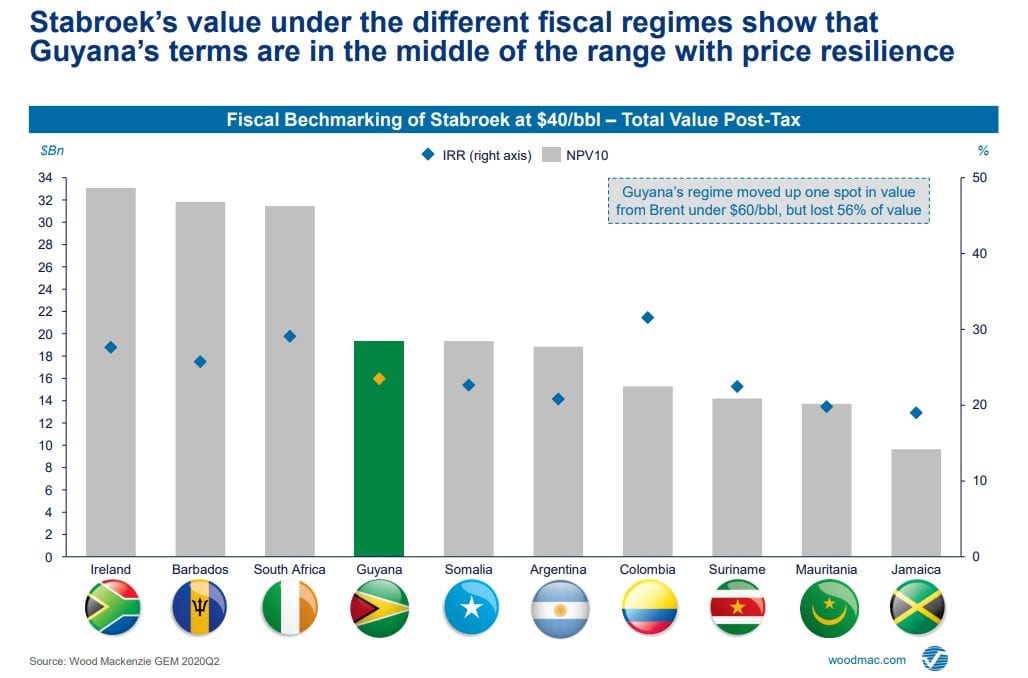 From a total of 10 countries studied (Argentina, Barbados, Colombia, Guyana, Ireland, Jamaica, Mauritania, Somalia, South Africa, Suriname) Guyana lies midway in terms of price resilience based on fiscal benchmarking of the Stabroek block at $40 per barrel total value post tax. The UK-based consultancy group pointed out that while many other projects are now "out of the money", the Stabroek block remains viable at oil prices below $40 per barrel.
"Guyana's terms are in the middle of the selected range of countries with fifty-seven percent. This is for a prospect of 200 million barrels and at a Brent price of forty dollars per barrel on real terms. In other words, at forty dollars oil price, the stature of Guyana is fifty-seven percent," Juan Agudelo, Director Consulting at WoodMac said.
In his explanation of the terms during a webinar this week, Agudelo said Guyana's fiscal regime allows operators to recover investment faster than the average, but only slightly so at 0.1 years difference.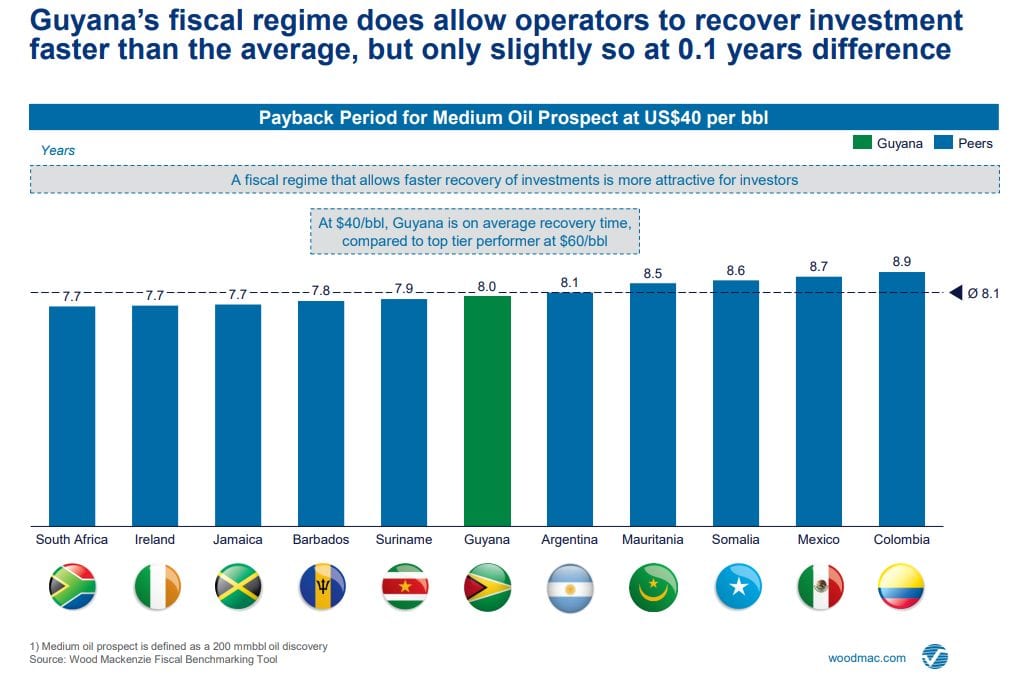 "Guyana's fiscal terms allows a repayment or a payout of eight years, which is in line with the average; almost similar to the average of all the countries we selected. You see a range – South Africa being the fastest of all the countries with 7.7 years and the longest being Columbia with almost nine years. The faster the recovery the more attractive the fiscal terms are to investors," he stated.
The fiscal regime for the Stabroek Block states that there is a 2 percent royalty, a 50 percent profit share and a 75 percent cost recovery ceiling.