As Guyana is now on the verge of becoming an oil producer resulting in billions of dollars in revenue flowing to the state in coming years, an economist is warning that it is not enough to merely expect that a rising tide will lift all ships.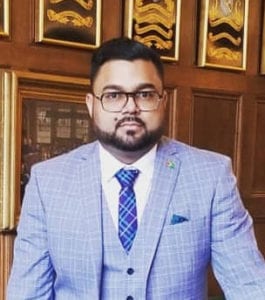 "A governance framework will require legislative action and the development of a holistic industrial policy and approach to the oil industry. There is also an urgent need to finalise other local policies and develop programs to help improve the human resources available to the industry in Guyana," Economist, Bobby Gossai Jr. said in a recent op-ed.
He said more importantly, these activities need to be clearly communicated to the general population so that Guyanese are aware of the business and labour market opportunities to get involved in the industry.
Pointing to the upcoming presidential elections, now scheduled for March 2, 2020, Gossai Jr. said the current focus on the political situation in the country, which has been replete with uncertainty for close to a year, complicate matters, though the government and the Department of Energy (DE) have shown an ability to keep the ball moving so far.
"The DE has continued progress on further developments, announcing that the third phase of Stabroek production, Payara, is expected for early 2020. This continuation to build the future project pipeline is important, as it prevents unnecessary lags and costs that might otherwise accrue, to both the operators and the country," he said.
The Guyanese Economist, who served as the former CEO of the Guyana Oil and Gas Association (GOGA), pointed out that while the DE rightly emphasizes that both revenues and knowledge transfer will deliver the primary benefits to Guyana, the industry is advancing at a faster rate than the level of administrative development, and as such, "greater resources and efforts will have to be given to this new oil and gas sector of the Guyanese economy in 2020."
US oil major ExxonMobil, operator at Guyana's prolific Stabroek Block, recently said that first oil could come at the end of 2019, earlier than previously expected, with the Liza Phase 1 Development project. This 120,000 barrels per day development will be the first of several, which when combined, will be producing close to 1 million barrels of oil per day by the end of the coming decade.