(S&P Global) Off the coasts of Guyana and Suriname, exploration and production companies are turning to offshore drillers and services providers to help them discover then recover massive amounts of crude oil locked beneath the floor of the Atlantic Ocean. But one analyst cautioned that the burst of activity in the region might have already peaked, in yet another blow to the struggling sector.
Exploratory work off the northern coast of South America has been a boon for companies operating in the offshore equipment and services sector with opportunities growing with each new discovery. To date, a consortium of companies led by Exxon Mobil Corp. has announced sixteen discoveries off the coast of Guyana; London-based Tullow Oil PLC announced an additional two finds in 2019.
Among a list of offshore drilling companies reaping benefits from exploratory activity in the Guyana-Suriname basin are Noble Corp. PLC, which is providing several drillships to aid the campaigns of Exxon, and Apache Corp., which signed a joint venture with Total SA and recently announced success offshore Suriname. In addition, Valaris PLC was tapped by Repsol SA to provide a high-specification jack-up rig to test Tullow's prospect.
During its fourth-quarter 2019 earnings call, Noble Corp. Chairman, President and CEO Julie Robertson announced Exxon awarded Noble with a one-year contract for a fourth drillship, which is expected to commence operations in the third quarter following the completion of its current assignment offshore Suriname.
"The one-year contract term increases the number of rig years awarded under the agreement to 4.5 with six additional years, dependent upon future developments and government approvals. Collectively, these contract awards build a solid base of floating fleet days under contract well into the decade with the award of additional contract days increasingly likely," Robertson said Feb. 20.
Transocean Ltd. is also looking to join the pack as exploration efforts present development opportunities. "Multiple campaigns in Guyana continue pointing towards incremental demand as new development opportunities materialize," President, CEO and Executive Director Jeremy Thigpen said Feb. 18 during the company's fourth-quarter 2019 earnings call.
Suriname also offers the potential for development, "assuming recent well success is duplicated," Thigpen said.
Opportunities for development … if projects progress
As Tullow learned with some disappointment to start 2020, success is not guaranteed, and not all discoveries are developed.
"The reality is that many projects never progress beyond the pre-commercial stage because they are not commercially viable," Bernstein analyst Nicholas Green said in a Feb. 14 report.
Exxon is the first driller to actually develop Guyana's offshore block. The oil major, along with partners Hess Corp. and China National Offshore Oil Corp., shipped first oil from the Liza Phase One project in January, and in May 2019, Exxon announced it had "funded the development" of the Liza Phase Two project.
Production from offshore Guyana, which Exxon expects to reach 120,000 barrels of oil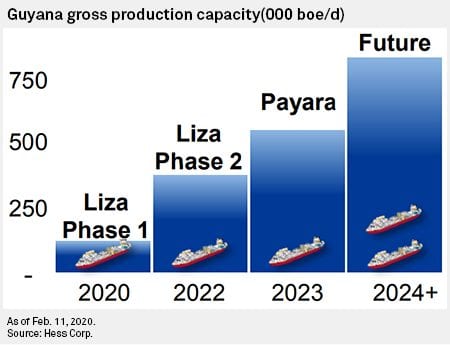 equivalent per day within the coming months, could increase by more than sixfold to exceed 750,000 boe/d by 2025.
Exxon tapped SBM Offshore NV to provide the front-end engineering design for a floating production storage and offloading unit, which SBM is also supplying.
Additionally, Exxon contracted Italy's Saipem SpA for the engineering, procurement, construction and installation of the risers, flowlines, and associated structures and jumpers for the project.
TechnipFMC PLC is providing the engineering of the subsea system, including wells on the seafloor.
International struggles persist
Despite the rush of recent activity off the coast of South America, the level of full-scale development offshore Guyana and Suriname fails to provide sufficient work to buoy the struggling international offshore drilling and services sector, according to Bernstein and Co.
The analysts said the worldwide offshore market will likely contract in 2020 as the number of offshore projects has "fallen dramatically" while production is relatively stable, Green said.
At the close of 2019, 140 offshore fields were under construction, covering 3.8 million barrels per day of future liquids — below the 4.3 million bbl/d average and the lowest amount since 2012.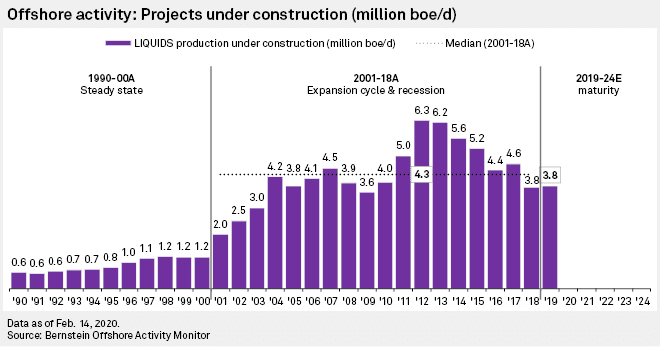 "This is negative for offshore services," Green said.
Through 2019, engineering and construction players reported about $31 billion in offshore intake, which "may have been 'as good as it gets,'" Green said. "We suspect 2020 will see this number drop, with book-to-bills potentially falling below 1x."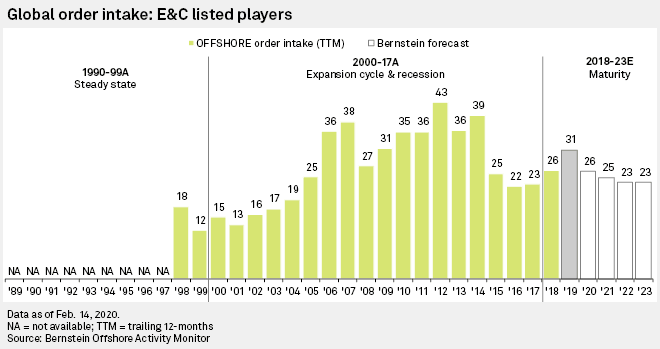 Any contraction in an already-slow offshore market will most negatively impact pure-play offshore companies including Subsea 7 SA and Aker Solutions ASA, Green said. TechnipFMC, Saipem and McDermott International Inc. will not escape the slowdown, and integrated companies including Schlumberger Ltd., Halliburton Co. and Baker Hughes Co. may not get the boost they need to counter the slowness in North American land activity.
Offshore drillers Transocean and Valaris would also be negatively impacted, Green said.
Source: S&P Global