As Guyana's oil and gas industry rapidly expands, so too will the opportunities for the private sector to tap into the downstream product and service demands, particularly with regard to food supply. This is according to Minister of Agriculture, Zulfikar Mustapha during his address to the Guyana Manufacturing and Services Association's (GMSA) Annual Business Luncheon, which was held on September 24, at the Palm Court Restaurant in Georgetown.
In his presentation on 'Emerging opportunities in Agriculture for the Private Sector in Guyana's Oil and Gas Economy,' Mustapha stated that the Government sees agriculture — in the context of a developing oil and gas economy — as immensely important.
"An unprecedented growth in national income from our newly-exploited natural resources, as positive and encouraging as this is, it can bring with it some challenges for the non-resource, tradeable sector. Given this, vibrant and competitive agriculture and manufacturing sectors are seen as critical in counteracting the adverse effects often associated with natural resource booms," the Minister stated.
He posited that the projected unprecedented growth in national income, which will largely be driven by the petroleum sector, will serve to unlock opportunities in the traditional sectors—principally the agriculture and manufacturing sectors. "In particular, the demand for food, especially high-value fruits and vegetables, and livestock and dairy products are all projected to increase as incomes rise overtime and as the employment potential in the oil and gas sector rises," Mustapha said.
Additionally, he said that an influx into the labour force will serve as a catalyst for a "large and potentially explosive growth in the downstream components of the food value chain, particularly wholesaling, retailing and logistics."
Mr. Mustapha emphasised his administration's commitment to providing the necessary support and an enabling environment to increase the competitiveness of local businesses to meet the demands of petroleum sector. He added that the Government has already begun implementing targeted interventions to support the agriculture sector, including incentives for the private sector and assistance to farmers and agro-producers.
Meanwhile, President of the GMSA, Mr. Rafeek Khan, challenged local food producers to realise the country's potential to be the 'breadbasket of the Caribbean'. "Guyana has been an important supplier of fresh farm produce and processed farm products to the Caribbean," he stated. However, he pointed out that in 2018, Guyana's food export/import ratio pegged imports at 75 percent, while exports stood at 25 percent. "Can you imagine for a second if it was the reverse—25 percent import and 75 percent export? For this to happen, we need to have more export-oriented domestic production and manufacturing of agro-products," he stressed.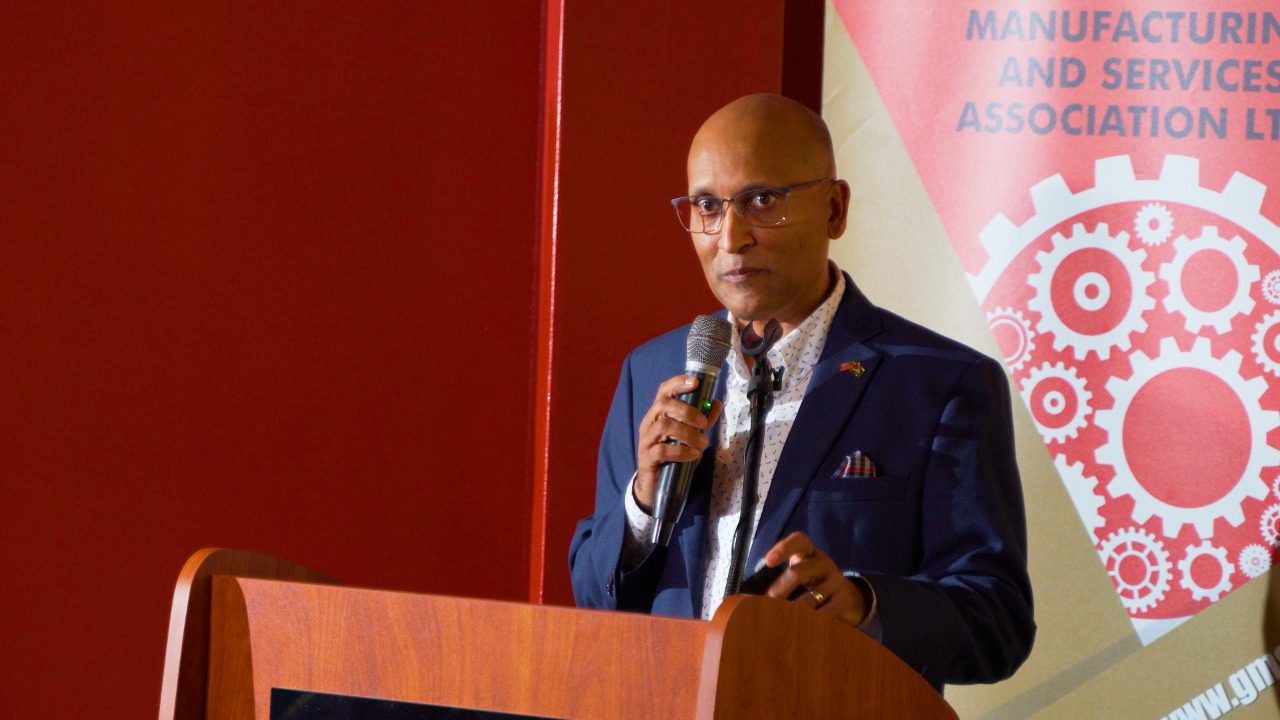 Khan noted that while there has been a growing interest in strengthening and intensifying local food production in order to capture the regional market over the years, measures need to be implemented to mitigate the adverse effect of seasonal food production and food price volatilities. He continued, "As you know, food prices are going up, especially with our high freight costs from around the world imports to Guyana."
He encouraged supermarkets and food distributors to also support local producers by offering their products on local shelves.