The growth of the oil and gas sector in Guyana is quickly becoming a beacon for competitiveness when it comes to compensation for workers, as it contributes to the country's gross domestic production (GDP) in larger share, year after year. It may not be there just yet, but oil and gas could become the sector with the most competitive packages in the South American country, according to PricewaterhouseCoopers (PwC) Guyana's National Compensation Survey 2022.
"Guyana's Banking and Finance sector offers Guyana's most attractive compensation packages, followed by the burgeoning Energy, Oil, and Gas sector," the authors wrote.
These sectors' compensation packages are, on average, 55%-65% more than those offered by the other sectors captured in PwC's survey.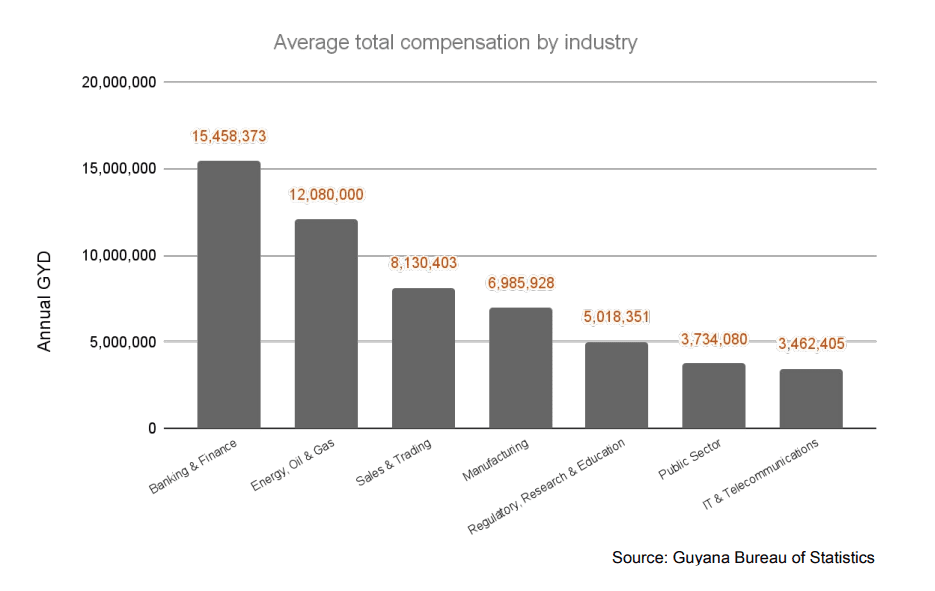 Its data, sourced from Guyana's Bureau of Statistics indicated that Banking & Finance contributes average total compensation of GY$15,458,373 annually, while the Energy, Oil & Gas grouping contributes GY$12,080,000. The sector with the next biggest average annual compensation package is Sales & Trading at GY$8,130,403. The other sectors, including Manufacturing and the Public Sector, contribute between GY$3,400,000 and GY$7,000,000.
PwC thought it valuable to note that the Energy, Oil & Gas group accounts for a small percentage of the labour force, relative to its contribution to Guyana's GDP.
It said, with the onset of oil revenue in 2020, the percentage contribution of oil, gas and support services to total GDP significantly increased to 13.4% from 1.74% in 2019.

"As the country continues to succeed in additional oil production, it is expected that the GDP contribution will continue to increase substantially and the sector may surpass the Banking and Finance sector to offer the most competitive compensation packages, with increased competition between the sectors for talent in the future."
PwC advised that Guyanese organisations in other sectors should focus on understanding the reward preferences of their employees so they can customise and personalize, in an increasingly competitive labour market.