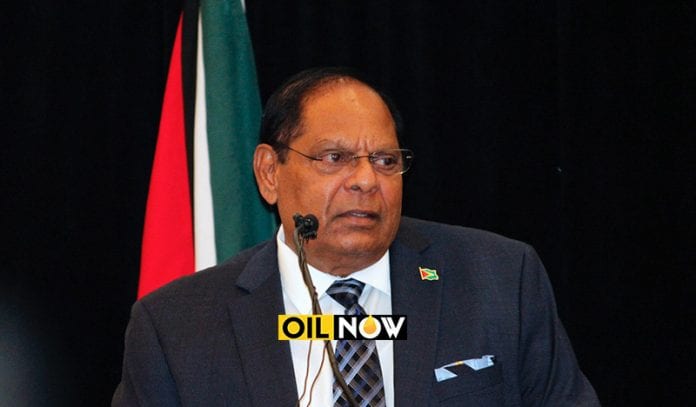 A two-day conference examining investment opportunities in Guyana's economy got underway this morning at the Marriott Hotel in Georgetown.
Delivering the keynote address, Prime Minister of Guyana, Moses Nagamootoo, said a positive outlook is needed for the emerging oil and gas economy since it has the potential to drastically transform the South American country. Mr. Nagamootoo said talk about the Dutch Disease and a perception in some sections of the society that oil revenue may bring with it, instability, paints a picture of gloom.  "I sometimes get the impression that the tsunami is coming, and that is not what it should mean," he noted.
He said at no stage is the Guyana government pessimistic about the prospect of oil revenues helping the country of 750,000 people.
Mr. Nagamootoo alluded to what he said are ongoing initiatives that are addressing the issue of transparency and accountability and assured that the administration will continue to put systems in place to ensure oil revenues benefit the country.
Desmond Sears, Vice Chairman, Private Sector Commission (PSC) of Guyana, speaking at the opening of the conference, said PSC would be delighted to receive and work with potential investors. "Guyanese businesses are making concerted efforts to position itself in the emerging oil and gas industry," he said, while urging the government to ensure revenues from oil production is plugged into other key sectors.
The Caribbean-Central American Action (CCAA) and the Inter-American Development Bank (IDB) are hosting the summit, in collaboration with a number of stakeholders in the South American country.
Executive Director of CCAA, Sally Yearwood, said the emergence of Guyana as a major new frontier for oil and gas exploration is, most definitely, an opportunity that many others can only hope for.
"Many countries, however, have experienced the dreaded "Dutch Disease" and Guyana, with its smaller private sector and significant levels of brain drain, will be challenged to build an environment that can keep pace with the demands of the new economy," she commented in welcome remarks to participants.
Guyana, Yearwood pointed out, has an opportunity that will change the direction of the country forever, "but it is up to the government, the private sector, and civil society, to ensure that the change is positive and sustainable."
The event will have two primary focal points. The first will look broadly at opportunities provided by accelerated economic growth fueled by petroleum production, and provide insight on some of the strategic considerations for the management of this growth. The objective here will be to give the private sector a view of some of the macroeconomic planning that is part of building a sustainable economy.
The welcome address and keynote speech by Prime Minister Moses Nagamootoo was streamed live on Facebook by OilNOW.