Brent crude slipped below $45 on Wednesday, reaching its lowest price since last November as a supply glut continues to plague oil markets, according to a new report by Bloomberg.
Oil has returned to levels last seen before the Organization of Petroleum Exporting Countries and allies including Russia decided in November to cut production to drain a global glut. Relentless drilling in U.S. shale fields and renewed output from Libya are putting that effort in jeopardy.
Brent for August delivery settled $1.20 lower at $44.82, down 22 percent from its January peak. WTI fell 98 cents to close at $42.53 a barrel on the New York Mercantile Exchange, after dipping to the lowest since August.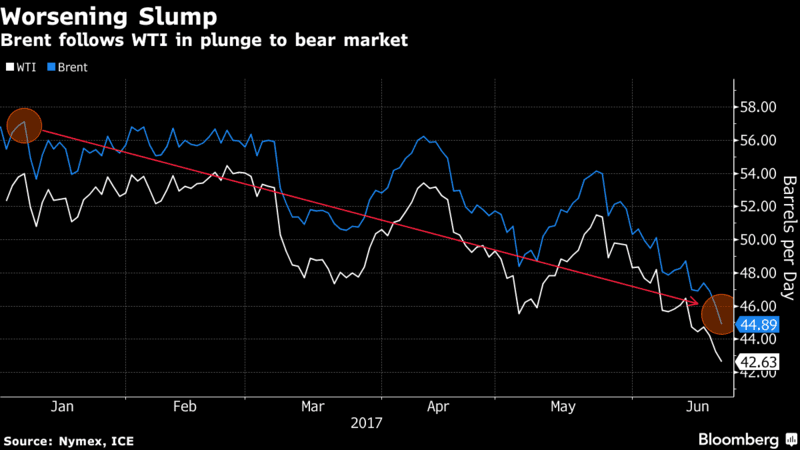 The U.S. Energy Information Administration reported a 2.5 million barrel draw on domestic inventories on Wednesday, but the news was not enough to boost West Texas Intermediate (WTI) prices, which have fallen 22 percent from a peak in January.
Reuters reported on Wednesday that OPEC-member Nigeria is set to increase exports to 2 million barrels per day in August. The African nation is exempt from the terms of the bloc's deal to cut output by 1.2 million barrels per day through March 2018. Loading plans compiled by Reuters show 2.02 million bpd of shipments planned on 67 vessels, some of which had previously been scheduled for July, but had to be pushed back due to loading delays.
Libyan oil production is also on the rise, with the country today announcing that output had reached 900,000 barrels per day. By next month, that figure will touch 1 million.