Guyanese telecommunications company GTT, one of the more than 20 firms from South America's newest oil and gas hotspot participating at the Offshore Technology Conference (OTC 2019), says it is actively pursuing opportunities in offshore communications.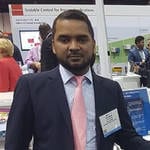 Eshwar Thakurdin, Director, Business Solutions, told OilNOW on Day 2 of OTC 2019 that the telecommunications company is taking a proactive approach in seeking out potential partners and customers even before they arrive in Guyana to do business.
"We can't wait for someone to come to Guyana and then decide who their provider would be. So, we use these opportunities to reach them before they come," he stated.
The discovery of more than 5.5 billion barrels of oil equivalent in Guyana by US oil major, ExxonMobil, has propelled the small country of around 800,000 people on the global stage. This is seeing the demand for new and existing services increase rapidly as oil and gas operations expand.
"There are solutions now that are being asked for that we have never had to offer, such as offshore communications," Thakurdin said, adding that the company is looking for partners that "we can work with now to offer solutions to meet the oil and gas needs."
He said some of what GTT is doing at OTC this week is meeting with potential partners that can help the company expand its product offering and solutions. "We're venturing more offshore now. We've been doing everything on solid land, now the demand is to get stuff offshore."
Offshore communications networks not only allow for wi-fi connectivity and personal cell phone use, but also real-time transfer of offshore data to onshore offices, allowing for remote unmanned and subsea developments. The way the offshore industry works has been transformed by improved communications systems over the years.
Oil production is set to begin in Guyana within months, and from all indications, multiple offshore developments will see the country producing close to 1 million barrels of oil per day by the mid-2020s.