The Institute of the Americas 26th annual La Jolla Energy Conference got underway today in San Diego, California marking the beginning of two days of dialogue and debate on the future of sustainability and energy policy in the Americas.
Brazil and Mexico will be prominent on the agenda with Wilson Center Directors Paulo Sotero of the Brazil Institute, and Duncan Wood of the Mexico Institute both set to lead sessions at the conference. On May 24, Duncan Wood will co-chair a roundtable on the outlook for U.S.-Mexico energy trade; and on May 25, Paulo Sotero will host a discussion on the changing energy and political environment in Brazil.
As Guyana moves closer to entering the league of oil producing nations, developing an understanding of how the industry works and what are the driving forces behind exploration and production activities, and how these factors influence the entire supply chain are becoming even more important.
OilNOW representative, Michael Leonard, attended this evening's opening ceremony where a number of issues relevant to Guyana's emerging oil and gas industry were discussed.
Speaking at the event, David Victor, Professor, School of Global Policy & Strategy (UCSD) said a key challenge for oil producing countries continues to be the management of oil revenues. Getting this wrong leads to a number of challenges as can be seen all over the world, and closer to home for Guyana, with its neighbor, oil-rich Venezuela.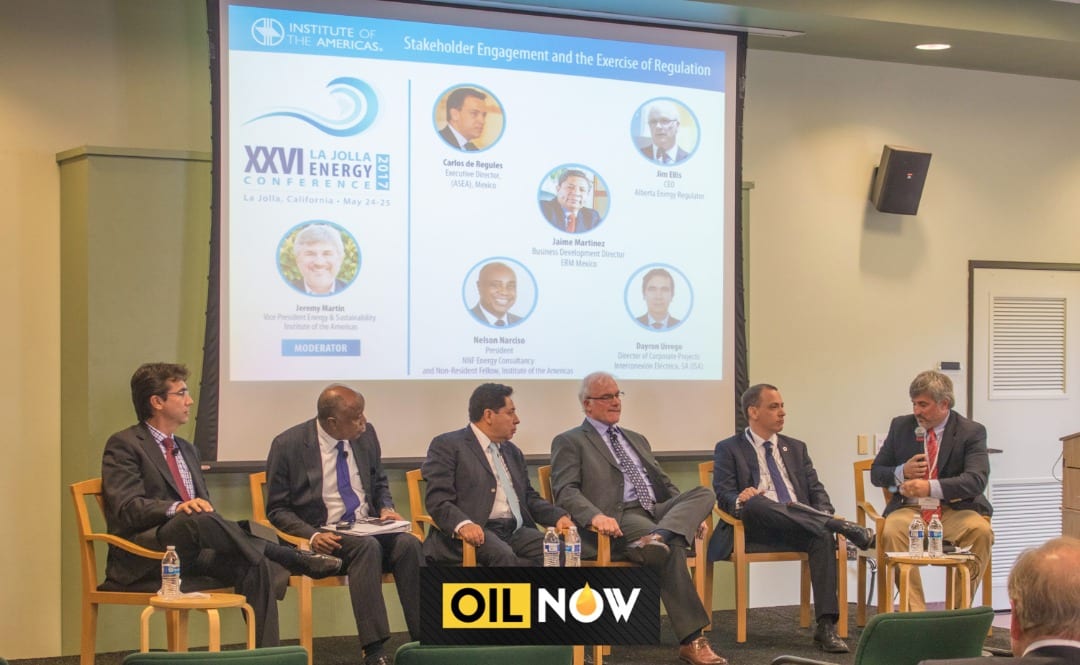 Higher oil prices, while good for operators, the host country, and investors, also create incentive for more corruption, Mr. Victor pointed out.
Already, Guyana is in a race against time to put the necessary legislation and framework in place in preparation for first oil. The country has been getting support from a number of international partners and is making progress in putting the necessary systems in place. Multiple regulations are being drafted and proposed amendments to existing laws are being written and studied as the Guyana government gears up for the beginning of a journey that could transform the nation and deliver prosperity to its small population of just over 750,000.
Measures taken to date include; include the updating of Guyana's National Upstream Petroleum Sector Policy, creating a Guyana National Local Content Policy (draft), revision of model production share agreements, updating of the 1986 Petroleum Exploration and Production legislation, and fashioning of a draft Sovereign Wealth Fund Bill. Petroleum taxation fiscal rules and regulations have also been drafted and the consultation process for the Petroleum Commission of Guyana completed.
The country's natural resources minister, Raphael Trotman, has indicated that a national oil company will be developed in 2018 and a petroleum institute will be established by 2020.