Ramps Logistics Guyana has received its Local Content Certificate and is now displayed on the official register of Guyanese companies, on the website of the Local Content Secretariat.
The certificate was issued for a one-year period, as stipulated by the Local Content Act, and will expire on November 13, 2023.
Announcing receipt of the document on Monday, Ramps Logistics said it means the company "is certified to provide goods and services to the local Oil and Gas Sector."
Specifically, the Act grants companies preferential access to procurement opportunities in the sector, as they have satisfied its definition of a Guyanese company.
Ramps added, "We are grateful for all who have stood by us during the past few months, especially our team members who have remained strong throughout this process. We remain committed to working with the Local Content Secretariat to develop local content in Guyana and ensure more opportunities within the Oil and Gas sector remain among its people, businesses, and communities."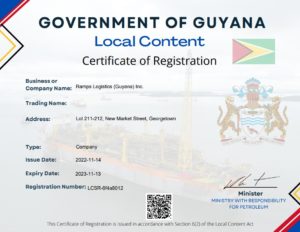 This award was made in keeping with a Court order made last Friday by Chief Justice, Roxane George-Wiltshire S.C., that it be granted to Ramps before noon on November 14.
Ramps had approached the Court after being refused the certificate by the Guyana government on several grounds.
"In her preliminary ruling, the Chief Justice said, "The law provides a relatively simple regime for registration once the person satisfies the criteria in this case, of being a Guyanese company. There is no evidence submitted by the Respondent (Pertab and Bharrat) to counter the information provided by the applicant which I have considered and concluded satisfies the requirements of the Local Content Act."
Ramps said the ruling shows that Guyana's judicial system is free, fair and independent.