Warnings about Islamist group ISIS having a local cell in Trinidad and Tobago (TT) has prompted energy companies in the twin island republic to beef up security.
London-based Argus Media reported on Monday that government, industry officials and diplomats told the news service that warnings from TT's government prompted energy companies operating in the country to take steps to enhance security measures.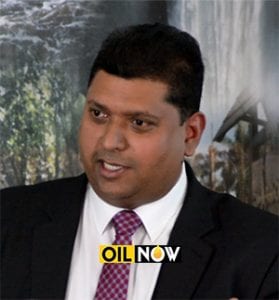 Former TT Minister of Energy and Energy Affairs, Kevin Ramnarine, told OilNOW on Monday evening that threats to the nation's oil and gas infrastructure must be taken seriously.  "Any threat to Trinidad and Tobago's oil and gas infrastructure must be taken seriously. The article with this information comes from a well-known and reputable oil and gas media house. We know that a lot of Trinidad's natural gas production and transmission infrastructure is located in rural areas, along coastlines and in the sea. We know that much of these assets are owned by British and American companies."
Mr. Ramnarine said this means there is always a degree of vulnerability, and as such, risk must be factored. "The responsibility for mitigating that risk falls to agencies such as the Coast Guard and the Air Guard. It is hoped that the relevant authorities will be on guard and will investigate the validity of this report," he told OilNOW.
The worry is that export-oriented installations owned by major western companies, such as the 14.8mn t/yr Atlantic LNG plant, could be soft targets for the group, Argus reported.
Security concerns have been discussed by the government with diplomats from the US, UK, Canada and Australia – home countries for some companies involved in oil, natural gas, LNG, petrochemicals and fertilizers, according to the officials.
"The companies and the government are taking the security concerns seriously, and are acting on them in a quiet and coordinated manner," an energy ministry official told Argus. "The companies have been strengthening internal security measures and monitoring systems. You will not see tanks and other military vehicles parked outside the oil and gas installations."
In February US troops participated in anti-terror raids in TT in an effort to capture four "high value targets." US military personnel from US Southern Command, which oversees US military operations in the region, advised and assisted local Trinidadian security forces in apprehending the four extremists who are believed to be part of a network engaged in plotting terror attacks, CNN reported at the time.
In a news conference on February 15, a TT police official; Michael Jackman, said police uncovered a threat to disrupt the Carnival activities and detained "several persons of interest."
The twin island nation has long been an area of concern for the US military and intelligence communities as it is assessed to be home to ISIS sympathizers with officials saying that some of its citizens have traveled to Iraq and Syria to join extremist groups.
Meanwhile on March 23, TT's Ministry of National Security announced the staging of an exercise in collaboration with US authorities called 'Fused Response 18' geared towards enhancing emergency preparedness and bilateral relationship.
Trinidad and Tobago Defense Force (TTDF), Trinidad and Tobago Police Service (TTPS), and the U.S. Southern Command will train together to improve skills in areas such as communications and planning. This training will improve the readiness and interoperability of U.S. and Trinidad and Tobago services to respond to security challenges.  The exercise – set to take place April 16 to 26 – will enhance TT and the US collective ability to respond to natural disasters and combat transnational challenges, including terrorism, illicit trafficking, and organized crime.