The Centre for Local Business Development (CLBD) held its HSSE Management System Awards at the Marriott Hotel on Thursday.
It celebrated 30 companies who completed the Health, Safety, Security and Environment (HSSE) programme this year. HSSE is invaluably important to the oil and gas industry, in which operations require human resources to operate in high-risk environments.
"The Centre would like to congratulate all of the 30 local businesses for not only beginning, but for their dedication and commitment in completing the programme. The creation of an HSSE Management System in your businesses will not only help you to better compete for contracts in the oil and gas industry, but in other diverse sectors, commented Dr. Natasha Gaskin-Peters, the Centre's Director. "The safety culture is changing in Guyana, and you have taken the very important step of being part of that change."
She noted pride that seven female owned businesses are graduating, and moreover, that about half of the graduating companies have women as their HSSE leads.
23 customs petroleum officers complete offshore safety, emergency response training | OilNOW
Minister of Public Works, Bishop Juan Edghill, also congratulated the women involved for their work to enforce HSSE in the workplace, even bidding the audience to applaud them.
Labour Minister, Joseph Hamilton, said he has a deep concern for the issue of workplace accidents. His hope, the Minister expressed, is only that when a worker leaves home in the morning, he may return home in the evening free from injury or death. Hamilton said it is promising that over the last two years, there has been a decline in the number of workplace fatalities in Guyana.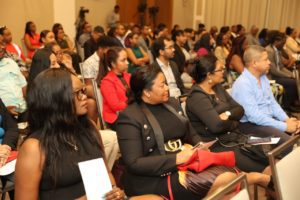 The Centre's HSSE programme begins with an initial awareness session, followed by a combination of site visits, creation of documentation and processes, an assessment session and follow-up visits. Last year, 25 companies have completed the Management System programme and this year, 30 new companies have completed the programme.
The Centre helps local businesses adjust to the realities of an increasingly internationalised Guyanese economy. In so doing, it plays a critical role in fostering an improved safety culture. To meet this demand, it said the HSSE Management System Programme in conjunction with members of the oil and gas sector. The programme commended in July 2019 and has since assisted over 200 businesses to begin their HSSE management system journey.
Guyana will need 160,000 more workers to sustain its oil-driven economic growth – Migration Policy Institute | OilNOW
The 30 graduating businesses include ActionINVEST Caribbean Inc., Atlantic Concierge & Integrated Logsitics Inc., Brisjen Systems Development Specialist, CT Williams Technologies Inc., Dunae Trading Company Inc., Go Logistics Guyana Inc., Guarantee International Crating Inc., Imon Wireless Solutions Inc., Industrial Fabrications Inc., Maggie's Catering Inc., Magua Risk Consulting Guyana Inc., MBW Energy Support Services Inc., Nexus Machine Tech Guyana Inc., Nexus Machining and Fabrication Inc., Oilfield Waste Management Services Inc., Phoenix Oilfield Services and Engineering Inc., Princton MK, Smart Tech Solutions and Construction, SRKN'gineering and Associates Ltd., Sure Gig Inc., Tagman Media Inc., W&T George and Company Ltd., Western Logistics Guyana Inc., Praetorian Executive Protection Services Inc., Data Technology, Atlantic Marine Supplies Inc., Caribbean Medical Supplies, Global Chris Express Services, Global Commercial Import and Transport Inc. and Royal Contracting Services.
the Centre is funded by the Stabroek Block consortium, through the Greater Guyana Initiative (GGI).