From the first discovery announced in May 2015, to first oil, now potentially just days away; the tremendous work that has gone into bringing the Liza Phase 1 Development project to the point of production will soon pay off.
The more than 1,700 Guyanese men and women who have been working on the project to date, will celebrate along with their countrymen, the first barrel of crude to be produced from the oil field that first placed Guyana on the map of frontier countries to watch, in the world of oil and gas.
Since discovering the initial 800 million to 1.4 billion barrels of oil equivalent, ExxonMobil has gone on to find more than 6 billion barrels of crude from a total of 14 discoveries at the prolific Stabroek Block.
Now, the oil major and its co-venturers Hess and CNOOC along with the government and people of Guyana, are about to embark on a new journey that can potentially transform the small South American country of just over 750,000 people, to one of the most prosperous in the region.
"It's very exciting to be where we are at," Deedra Moe, ExxonMobil Guyana Senior Director, Public and Government Affairs, told OilNOW on Wednesday. "These projects take a great deal of time and effort. We've been able to do this in a shortened timeframe, but it still takes a ton of effort and coordination, and partnership and working together to get where we are at."
The Liza Destiny FPSO arrived in Guyana at the end of August, ahead of schedule, and has been prepping since then for the historic production of that first barrel of oil.
"We are finalizing all the hook-up and we have started the commissioning. We are pressure testing all the lines and double-checking, making sure they are no issues or potential leaks. All that has to be done to make sure that we start up safely and that we are protective of the environment when we do so," Moe pointed out.
The Liza Destiny FPSO was converted from the oil tanker, "Tina", a 1999 Very Large Crude Carrier (VLCC). The conversion included upgrading of the hull and integration of 14 topside processing modules, totaling 16 thousand metric tonnes. Dutch floater specialist SBM Offshore was contracted by ExxonMobil to build and operate the vessel.
"As Guyanese, we should begin to recognise that it is a vessel that will be paid for by Guyanese, pumping Guyanese fuel which will be bringing in revenue for Guyanese to help our country to ultimately be transformed positively from an economic development perspective. It is imperative that as Guyanese we begin to appreciate that the direct and the indirect benefits that emanate from this sector goes far beyond anything that we have seen thus far," Dr. Mark Bynoe, Director of Guyana's Department of Energy, said at the time of the FPSO's arrival.
The Liza Phase 1 Development is located approximately 190 kilometers offshore Guyana in water depths of 1,500– 1,900 meters. The Liza Destiny is designed to produce up to 120,000 barrels of oil per day, with storage capacity of up to 1.6 million barrels.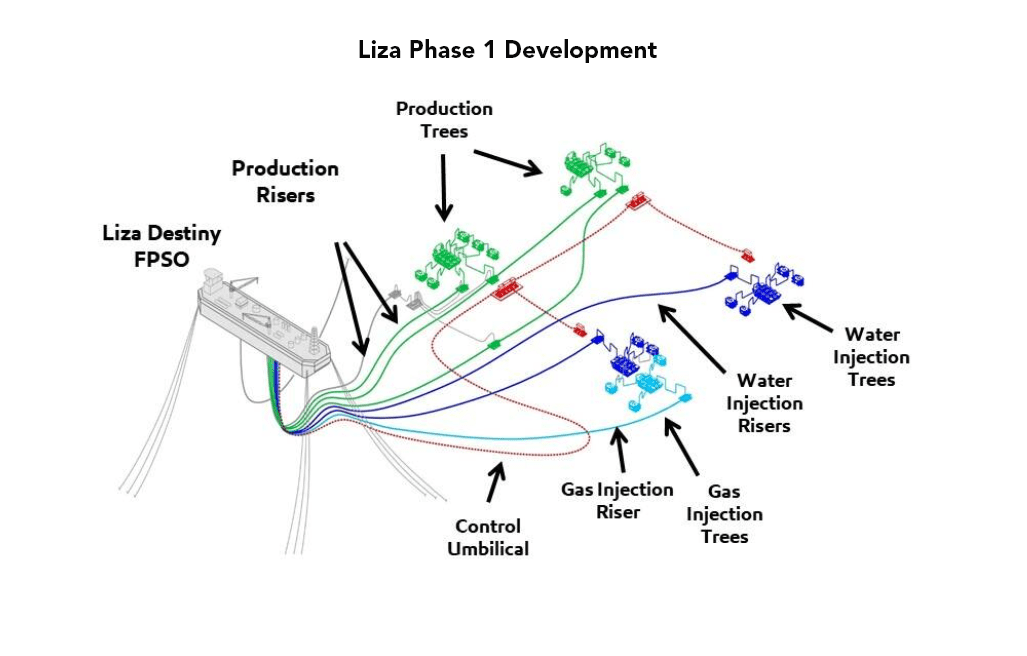 The project has four drill centers with 17 wells in total; eight oil producing wells, six water injection wells, and three gas reinjection wells.