The giant Saipem 7000 heavy lift crane vessel partially capsized on Thursday during a lifting incident in a fjord in Norway.
Reports from the Norwegian Maritime Directorate suggest that all 275 crew members were rescued; no injuries were sustained.
Norwegian Media Outlet VG said eyewitnesses heard loud bangs before the ship began tilting. It is believed that the tilting occurred because some of the lifting equipment on the crane ship failed.
Norway's central rescue center, HRS Sor-Norge reported that a barge next to the crane vessel sustained significant damage and capsized.
The Saipem 7000, spanning 198 metres long, was previously installing jacket foundations at an offshore wind farm, being developed by a joint venture of SSE Renewables and TotalEnergies.
The vessel can handle the entire work scope of offshore construction developments worldwide, encompassing pipe laying in water depths greater than 2,000 metres and heavy lift operations up to 14,000 tonnes.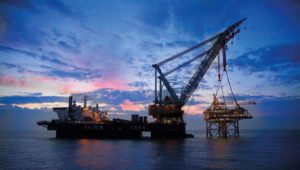 It has a state-of-the-art J-lay tower, upgraded dynamic positioning capability and fast ballasting system, and its Class 3 DP system of 12 thrusters ensures that maintains a good station in difficult weather conditions.
Accommodation facilities are built into it for up to 725 people, allowing it to assist hook-up and commissioning as well as initial platform life support activities.
In Guyana, Saipem has been awarded contracts by ExxonMobil for the Engineering, Procuring, Construction and Installation of Subsea Umbilicals Risers Flowlines for the offshore developments at the Stabroek Block.