Oilfield Services Company Schlumberger is one step closer to setting up a source storage and calibration facility in Guyana to support the offshore exploration and production activities in the South American country.
The company had submitted an application to the Environmental Protection Agency (EPA) for Environmental Authorisation for the project which is to be located at 1 Area X Houston, East Bank Demerara, on the outskirts of Georgetown.
The EPA said in a notice dated April 11 that after screening the application to assess the potential environmental impacts it has been determined that the project will not significantly affect the environment or human health and is therefore exempt from the requirement for an Environmental Impact Assessment (EIA).
Nevertheless, EPA said in keeping with the Environmental Protection Act, Cap.20:05, Laws of Guyana, and the Environmental Protection (Authorisations) Regulations, 2000, any person who may be affected by the proposed project may lodge an appeal against the Agency's decision with the Environmental Assessment Board within thirty days of the date of the publication of the notice.
The site where the project is to be located has been under development by Schlumberger over the last 3 years. The property now serves as Schlumberger's Offshore Services Base and includes a Liquid Mud Plant, Dry Bulk Facility, and Workshop facilities to support the offshore operations.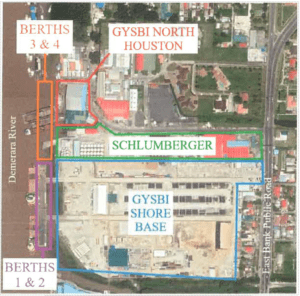 In its submissions to the EPA, Schlumberger said the source storage and calibration building construction is expected to take place while other construction and operational activities are ongoing on the property.
The facility will be used to prepare downhole tools that are used for drilling, completion, and well intervention activities in order to optimize the production and maintain continuous reservoir flow. The facility will also house wireline tools, drilling and measurement tools, and bottom hole assembly tools.
The company said it has allocated $156,968,550 GYD ($750,000 USD) for the construction of the building. During this phase, approximately 30 workers will be required at peak times. Under routine operating conditions, approximately 8 workers will be required to operate the facility.
The expected duration of construction works is 128 days. Schlumberger said the facility will be in operation for more than 20 years.