U.S. oil major ExxonMobil has spudded the Bulletwood-1 prospect located 180km offshore Guyana on the Canje Block.  Bulletwood is said to be highly prospective with an environment of disposition unique among offshore Guyana blocks in that it contains both continental slope and basin floor terrain. The well was spudded by the drillship Stena Carron.
Most of the discoveries offshore Guyana to date have been made in the slope environment. Canje is the first block offshore to test prospects on the basin floor – which have the potential to contain larger accumulations of recoverable hydrocarbons, experts have said.
Westmount Energy, which has a 7.2 percent interest in the issued share capital of JHI Associates Inc., a stakeholder in the Canje Block, said Tuesday Bulletwwod-1 is the first in a series of wells to be drilled on the block, which are all fully funded.
"Bulletwood-1 is the first well in a multi-well, fully funded, drilling campaign being operated by ExxonMobil on the Canje Block over the next six months or so," said Gerard Walsh, Westmount Energy Chairman. "This campaign will evaluate high impact Upper Cretaceous prospects in the proven Liza play fairway with, in some cases, additional deeper reservoir targets."
He said the start of the drill programme at the Canje Block also provides Westmount shareholders exposure to a portfolio of drilling outcomes over a compressed timeframe. "Success from some of the wells in this portfolio could result in transformational value changes for Westmount," Walsh stated.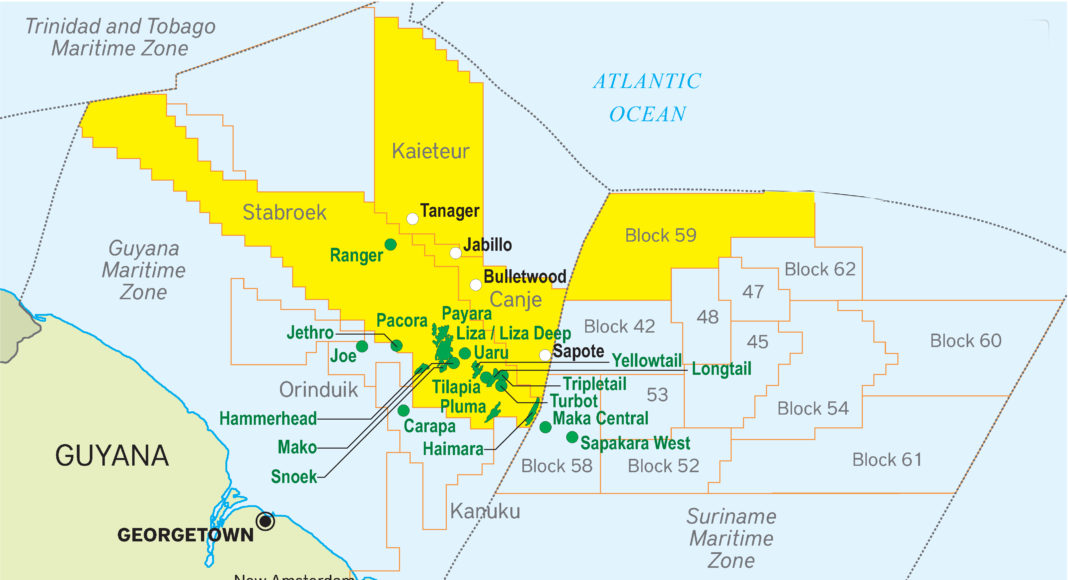 Back in 2016 a 6,100 km2 3D seismic survey was conducted on the Canje Block and this data has been used to define a substantial inventory targeting three initial prospects – Bulletwood, Jabillo, and Sapote.
ExxonMobil is the operator of the Canje block with a 35% interest, while Total holds 35%, JHI Associates, Inc. 17.5% and Mid-Atlantic Oil & Gas, Inc. 12.5%.