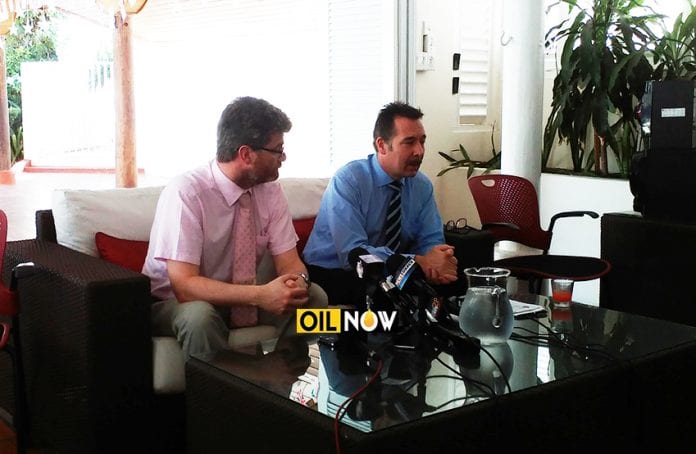 British financial crimes expert, Dr. Sam Sittlington has expressed reservations over the level of resourcing afforded to the Guyana Police Force's Special Organised Crime Unit (SOCU) but believes the unit will be able to effectively investigate malfeasance and other unlawful activities in the emerging oil and gas sector.
Dr. Sittlington told OilNOW while it may be too early to speak to the unit's efficiency in investigating potential financial crimes in the oil and gas industry, "SOCU are capable of dealing with this because the types of crimes that will come from this are no different from the crimes that are currently being investigated."
He was at the time engaging OilNOW following a 'Meet the Press' hosted on Tuesday (January 9, 2018) by British High Commissioner to Guyana, Ambassador Gregory Quinn, at his official Bel Air Gardens Residence.
"Who knows what's coming…whether they will be prepared for it will depend on the cases they have and cases that will come in future," Dr. Sittllington told OilNOW.
According to the financial crimes expert, "criminals are using the internet, foreign jurisdiction, offshore companies, trust; all of these different avenues to try and launder money from criminal activity."
Speaking specifically to the oil and gas sector, he cautioned that the sources of money in such operations "might be from money laundered from gold smuggling in Guyana which is your commodity, it may be involved in oil in the future."
He also lobbied additional resources be provided to the unit given the imminence of commercial production and the likelihood of increased financial crimes as a result.
SOCU, according to the British Security Expert, is currently 'swamped' with in excess of 300 investigations stemming from recently concluded forensic audits — not including referrals from the Financial Intelligence Unit and other agencies.
The British Security Expert who returned this past week to Guyana to continue working with SOCU was quick to point however, "It's not the sole responsibility of SOCU to police the oil and gas sector."
He observed that it will be a private and public sector affair and as such agencies across the spectrum will have to revise their procedures.
Dr. Stillington highlighted the need for even tighter control measures over procurement in the industry and specifically in the banking industry.
"Being prepared now is very important….to get procedures in place for procurement of equipment, for resources, that proper procedures are followed," he added.
He stressed too the need for stricter control measures over bank accounts adding that entities will have to put "all those business type cultural controls…in place to prevent any form of malfeasance in public office."