Recently updated information from Guyana's Petroleum Management Programme shows Stabroek Block oil production averaging 372,000 barrels per day (bpd) for the period August 1-15, 2022.
Production in this period reached its lowest on August 4 with just over 245,000 bpd, while production peaked on August 10 at more than 390,000 bpd. This peak is the highest recorded production level since first oil, toppling the July high of 386,000 bpd.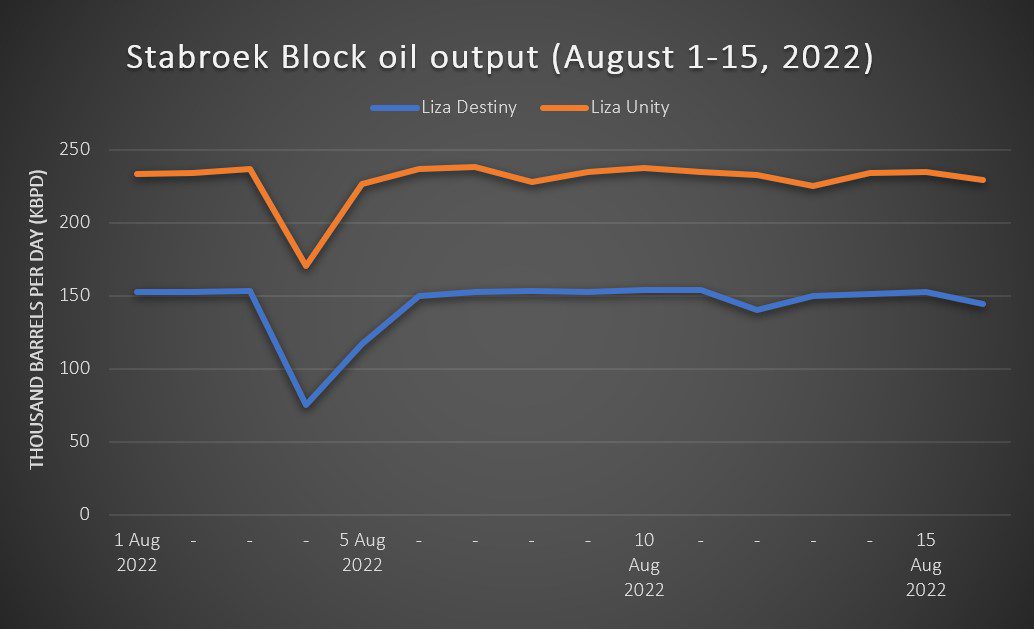 These figures account for combined production from the Liza Destiny and Liza Unity floating production, storage and offloading (FPSO) vessels.
Liza Crude, from the Liza Destiny, averaged 143,000 bpd. Production reduced at 74,000 bpd and peaked on August 10 at almost 154,000 bpd. This project was designed to produce 120,000 bpd but was optimised earlier this year delivering production of around 140,000 bpd. In recent months, the project has been consistent in safely exceeding this level.
Unity Gold, from the Liza Unity, averaged 229,000 bpd. Production met its lowest point at 170,000 bpd on August 4 and peaked at nearly 238,000 bpd on August 7. This project was designed to produce at 220,000 bpd and, like the Destiny, was able to safely exceed this capacity in recent months.
Development drilling continues offshore for the Payara project. When on stream late next year, the Prosperity FPSO will produce at levels similar to Unity.
ExxonMobil has discovered approximately 11 billion oil-equivalent barrels in the Stabroek Block. It expects to have six FPSOs there by 2027 and sees potential for 10 by the end of the decade.