South American oil producer Venezuela is listed among the top 5 countries most vulnerable to the COVID-19 pandemic due to major deficiencies in the state's capacity to tackle the disease.
On Monday IHS Markit launched its COVID–19 Country Vulnerability Index, ranking countries' capacity to deal with the virus outbreak today as well as those expected to be exposed in the coming weeks and months.
The new index weighs demographics, economic vulnerability, health care capacity and state preparedness data, as well as a country's prior experience with pandemics such as SARS or Ebola and found vulnerability may be the highest in countries not yet affected by the outbreak.
"As the COVID–19 pandemic continues to spread, it is critical that governments and firms leverage rigorous data-driven tools to better anticipate and analyze risks to personnel, assets and business," said Zbyszko Tabernacki, senior vice president, Economics and Country Risk, IHS Markit. "The COVID–19 Country Vulnerability Index brings together data and expertise from 200 economists, country risk analysts and life sciences experts, to help organizations anticipate emerging risks due to the COVID-19 outbreak around the world."
Vulnerability among large, developed countries, including Japan, Italy and Spain results primarily from demographic variables including percent of population living in dense urban areas and particular age group structures that trend towards elderly populations. At the same time, risk is mitigated in most developed countries by strong healthcare sectors and well-organized centralized crisis response infrastructures.
IHS lists the top 5 most vulnerable countries to COVID-19 due to state capacity deficits as Afghanistan, Yemen, Libya, Central African Republic and Venezuela. Other categories include healthcare infrastructure deficits, demographics and economic dynamics.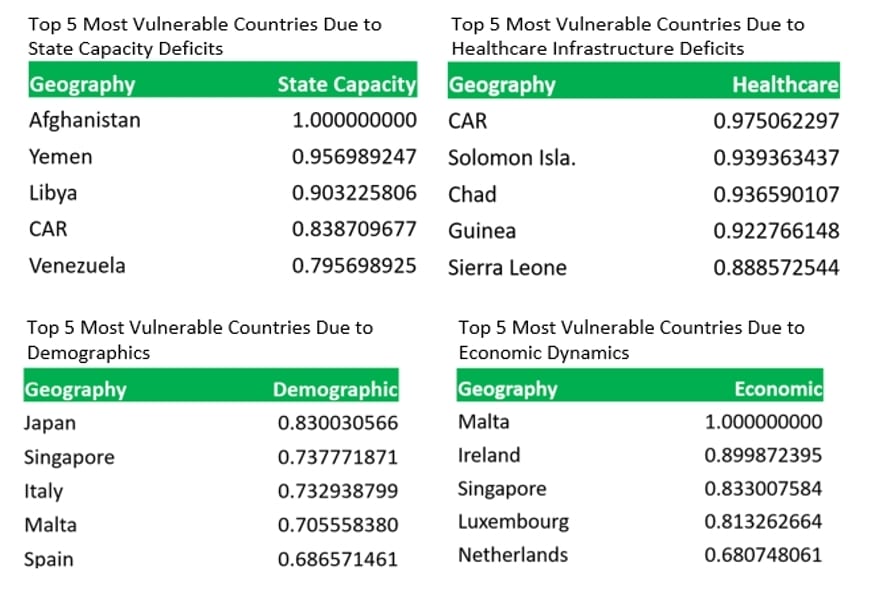 According to Human Rights Watch, hospitals in Venezuela have closed or are operating at a fraction of their capacity, many without regular access to electricity or water. The public health infrastructure is so weak that in 2019, the country had the world's steepest rise in malaria cases. Vaccine-preventable diseases such as measles and diphtheria have already returned long before the COVID-19 epidemic hit.
"Government actions that have contributed to Venezuela's collapsing health care system not only violate Venezuelans' right to health, but they are now a threat to global health. In the context of collapsing infrastructure, mass migration, and a government in denial about the humanitarian emergency, a coronavirus outbreak in Venezuela would be a disaster," Human Rights Watch said.
According to the IHS Markit index, small developed economies like Malta, Ireland and Singapore have high levels of economic vulnerability due to a combination of trade openness, external debt as share of GDP and self-employment as a share of overall employment, which are all exacerbated by the global slowdown associated with the impact of the outbreak on global economic activity.
States like Afghanistan, Yemen and Libya with chronic deficits in state capacity are particularly vulnerable due to the inability to coordinate cohesive and effective responses to the crisis. In turn, systemic deficits in healthcare infrastructure like the number of available hospital beds in intensive care units for treating those infected by the virus and high historical fatality rates from pneumonia make countries like the Central African Republic, Guinea, and Sierra Leone highly vulnerable as well.