Eleven major oil and gas support service providers including TechnipFMC and Stena Drilling received the stamp of approval from the Local Content Secretariat for their five-year Master Plans.
On October 19, the Minister of Natural Resources, Vickram Bharrat, met with representatives of the 11 companies at his Georgetown office where the signings were conducted. The approved plans also include the new mandatory 45-day payment system for locals supplying Guyana's oil sector.
During the signing, Bharrat commented that the payment deadline will buttress the growth and competitive financing of Guyanese businesses. He reminded that this move is in keeping with the spirit of Guyana's Local Content Act.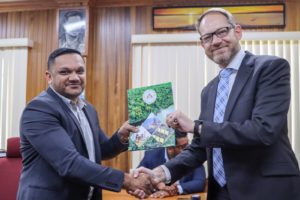 Area Director at TechnipFMC, Nicolas Sicard shared that the company is honoured to have its master plan approved. Such a signing, he said, is a recognition of Technip's commitment to building local content in Guyana.
Against this, he explained, "We remain focused on building the expertise in-country that will be required in the future to deliver world-class projects. We are very excited to be a witness of Guyana's successes and are privileged to have a part in it."
The other oil support companies that had their Local Content Master Plans were Cataleya Energy Limited; International SOS Incorporated; Leader Engineering Guyana Incorporated; Sustainable Environmental Solutions; Tenaris Guyana; G-Boats; Weatherford; and Seacor Marine LLC.
These companies join several others, including SBM Offshore, Halliburton, and Western Logistics Guyana that have signed their master plans which are enforceable for the next five years.