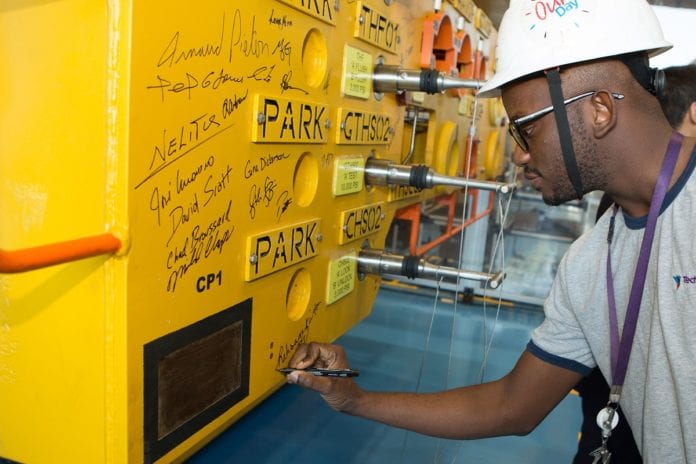 UK based oil services company TechnipFMC recently celebrated the delivery of the company's 600th subsea tree in Brazil, which will be installed at ExxonMobil's Liza field offshore Guyana.
The event, which took place at the company's assembly plant in Rio de Janeiro, was attended by officials from TechnipFMC, ExxonMobil, and several Guyanese who are employed with the two companies.
In a statement released by the company on Tuesday, TechnipFMC Subsea President Arnaud Pieton expressed happiness over the accomplishment.
"I am very happy and humbled to have joined the Brazil team to celebrate an important milestone that sets a record for the country: the 600th subsea tree delivered, which is destined for the ExxonMobil Liza project… This impressive achievement is a tribute to the entrepreneurs who started there over 40 years ago. This is also a testament to our ability to deliver with quality and safety, so kudos to everyone who made this possible." Pieton said.
The subsea tree, monitors and controls the production of a subsea well. Fixed to the wellhead of a completed well, subsea trees can also manage fluids or gas injected into the well. A typical offshore development can have several of these subsea trees in operation. TechnipFMC will also be providing the manifolds for the Liza Phase 1 and 2 projects.
A manifold is an arrangement of pipes and valves designed to combine, distribute, control, and often monitor fluid flow. Connected to the subsea trees, the manifolds are intended to optimize the fluid flow of production within the system.
The Liza Phase 1 project includes 17 subsea trees and five manifolds as well as the associated controls and tie in equipment.
TechnipFMC was awarded contracts by ExxonMobil Guyana for the production of the subsea systems for the Liza Phase 1 and 2 projects.