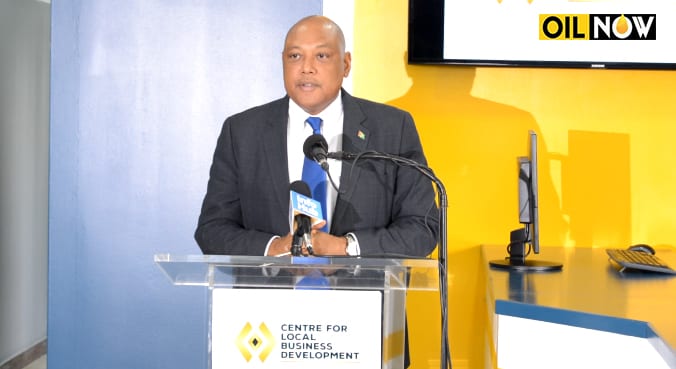 "We are not in a sprint, we are in a marathon" were the words echoed by Guyana's Minister of Natural Resources, Raphael Trotman, at the opening of ExxonMobil's Centre for Local Business Development on Thursday. The US supermajor's Country Manager in Guyana, Rod Henson, had himself moments before uttered the same words in describing the processes which are unfolding as Guyana moves closer to first oil in mid-2020.
Mr. Trotman and the Government of Guyana have come in for criticism in recent months about their handling of preparations for oil production. Some sections of society and the business community believe that not enough information is being made public about measures being taken and the framework which is being developed for the new oil and gas sector. A draft local content policy framework developed by government has not yet been finalized and the draft legislation for the Sovereign Wealth Fund is still being reviewed. A Trinidadian consultant who was hired to conduct a rapid analysis of the state of readiness of Guyana's hydrocarbon regulatory framework also told OilNOW in June that the country still lags in the area of institutional capacity.
But speaking at the event on Thursday, the natural resources minister said while he knows there is some degree of concern in the society and some feel government is not doing enough, he is confident that all systems are on track as far as preparation goes. "In a continuum of where things ought to be, we believe that we are right on target for where we ought to be here in July of 2017, and headed towards production by mid-2020," he said.
Mr. Trotman also previously disclosed on a televised programme in Guyana that his government has hired a high-level team of lawyers to advise on oil and gas. This was after being pressed to disclose the identity of those negotiating on Guyana's behalf, and advising on policy.
The Trinidadian consultant; Anthony Paul, had said that while institutional capacity has not improved significantly, there have been steps in the right direction. The Petroleum Bill was recently sent to a Select Committee in Guyana's Parliament and the Deputy Director and other personnel for the Petroleum Department have been appointed.
With less than 3 years remaining before first oil, Guyana is in a race to ensure a robust regulatory framework is in place and strong policies developed, so that the many pitfalls associated with resource wealth, could be avoided.