If Guyana fails to grant Ramps Logistics a Local Content Certificate to operate within its oil sector, Trinidad and Tobago companies will take their business elsewhere, to neighbouring Suriname.
This was communicated by a T&T business strategist – Jaishima Leladharsingh – who was at the time venting his frustrations on Guyana's historic local content law. Leladharsingh spoke in his personal capacity during the Q&A segment of a local content panel discussion at the Guyana Basins Summit 2022.
"I do not agree with the legislation of local content. I do not believe that that encourages investment. In my opinion, it is a big deterrent to business. We are observing what's happening with Ramps in Trinidad, and I am seeing it clear here that if Ramps does not get its Local Content [Certificate] approved, a lot of Trinidad companies will go to Suriname. I suggest that they have a rethink of that policy. It is not in keeping with the [CARICOM Single Market and Economy] CSME spirit and it is not going to encourage investment." 
While he spoke in his personal capacity, Leladharsingh happens to be the Director of the Trinidad and Tobago Coalition Services Industries (TTCSI). TTCSI is a national umbrella body that brings together all services sector organisations and associations in Trinidad and Tobago. It is an alliance of professional services associations and organisations and offers advocacy, research, development and networking opportunities and support to its members, all with the aim of strengthening the local services sector.
Ramps Logistics has lamented the delay at which the Local Content Secretariat – the Local Content Regulator in Guyana – has taken to grant a Local Content Certificate to the company. Ramps is pursuing the certificate, so it may receive preferential treatment in the award of contracts for the supply of goods and services in Guyana's oil and gas sector.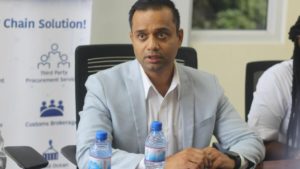 A Guyanese national or Guyanese company issued a Local Content Certificate by the Secretariat will be prioritised in the award of contracts by the oil companies or their sub-contractors to supply goods and services. This document informs companies that the Secretariat is satisfied that a holder of the certificate is considered a Guyanese national or Guyanese company.
Vice President Dr. Bharrat Jagdeo had said that the government may very well end up in court with one of the companies operating in Guyana's oil and gas sector because they were attempting to circumvent the local content legislation. The Vice President had stated too that the government was moving to close loopholes within the law that companies were abusing.
The Georgetown Chamber of Commerce and Industry (GCCI) had condemned in a public statement, what it termed "fronting" or "rent-a-citizen" tactics being practiced by some foreign companies in the sector. It had said that this runs counter to the spirit of the local content legislation.
Last week, the company took the government to the High Court for a judicial review of the hampered issuance of the document. Ramps was recently slapped with 10 charges from Guyana's principal tax regulator, the Guyana Revenue Authority (GRA) for making false declarations.