On Monday 12 August, UK-based Tullow Oil announced it had made a "significant and high-value oil discovery" off the coast of Guyana. Commenting on the announcement, Rystad Energy exploration analyst Palzor Shenga said, "After dominating the list of major offshore discoveries in 2018, Guyana has extended its winning streak. With multiple prospects identified, Tullow and its partners could easily be sitting on a multi-billion-barrel block."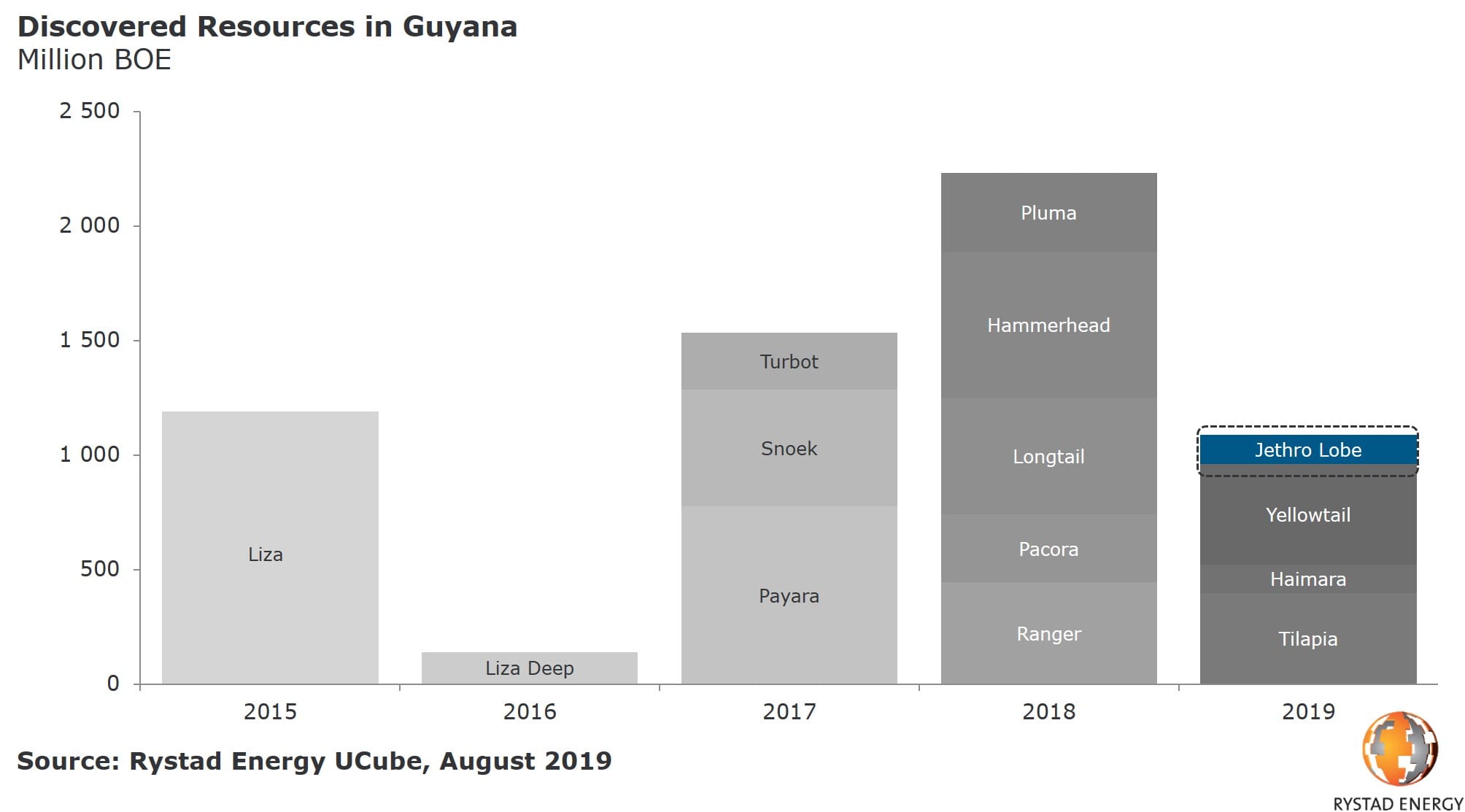 The discovery was made on the Orinduik license. The Jethro-1 exploration well, which targeted gross prospective oil resources of 250 million barrels, is the first discovery in the block. It encountered a 55-meter oil-bearing sandstone reservoir of Lower Tertiary age. This well was listed as one of the wells to watch in Rystad Energy's list of high impact wells for 2019.
"This discovery holds not only a significant impact for the prospects identified within the block but also for future Guyanese exploration, and cements the extension of a petroleum system beyond the game-changing Stabroek block," Shenga remarked.
Another well in the area – Joe-1 – is planned to be spudded later this month, targeting around 150 million barrels of gross prospective resources.
The discovery also comes as good news for other operators with near term exploration drilling. Repsol will drill its Carapa-1 well on the Kanuku block, targeting some 200 million barrels, later this year and CGX will spud the Utakwaaka-1 well in its Corentyne block by the end of the year.
"Tullow is a partner in the Kanuku block, and its knowledge will be extremely helpful on the Carapa-1 well, as the company was able to complete an extremely cost-efficient drilling operation at Jethro-1," Shenga added.