A trade mission is scheduled to arrive in Guyana from the United Kingdom (UK) this month. The mission will be the second of its kind for the year, registering interest in capitalising on Guyana's growth trajectory.
This is according to Sherwyn Naughton, the Country Director for Trade & Investment, Department for International Trade, British High Commission, Guyana & Suriname. He told OilNOW that so far, 10 UK companies have been confirmed to attend.
"There may be more by the time the mission comes," Naughton said. "They come from sectors including construction, procurement, shipping, food and drink, education and technology."
Earlier this year, Guyana had hosted another trade mission of business executives from the UK. Coming out of that trade mission is significant interest in business opportunities in Guyana and even potential agreements that could be signed.
In an exclusive interview with OilNOW, British High Commissioner to Guyana, Jane Miller, OBE, was asked about developments from the trade mission visit, members of whom met with Government officials and the private sector.
The High Commissioner explained that the nine-member trade mission's February visit to Guyana was a success and participating companies from the UK are still following up on leads and potential areas of cooperation from that visit.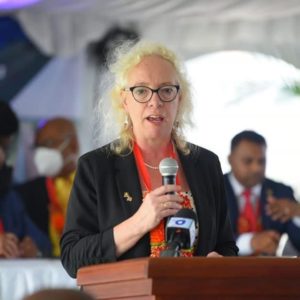 "Lots of them are still following up leads. But I know at least a couple of those companies have made substantial progress and are about to sign. It's too premature for me to announce which ones, but they had a really good trade mission. And almost all counts there have been follow-ups," High Commissioner Miller said.
When it comes to oil and gas, however, those discussions between Guyana and the UK are continuing.
Last year, Guyana hosted a visiting delegation from the UK that consisted of Her Majesty's Deputy Trade Commissioner (HMDTC) for Latin America and the Caribbean Department for International Trade (DIT), Spencer Mahoney.
With trade between Guyana and the UK amounting to over £500 Million last year, 21.6% of the UK's trade with the Caribbean, Guyana is the UK's largest trading partner in the Caribbean region. An increase in Guyanese travel to the UK could also result in greater economic activity, as the UK recently announced the lifting of visa restrictions for Guyana visitor travel to that country.