Corentyne Block majority stakeholder, Frontera Energy, said the total cost of the Wei-1 well (including 2022 pre-drill costs and costs related to drilling delays) are forecast to be approximately US$160-$170 million.
Frontera anticipates it will spend approximately US$120-$140 million on the Wei-1 well, which it said will be funded from existing resources. This represents its majority stake in the Corentyne Block, which it recently attained from a deal with the operator, CGX Energy. Frontera's stake is 68%.
Drilling commenced at Wei-1 late January with the Noble Discoverer, CGX had announced.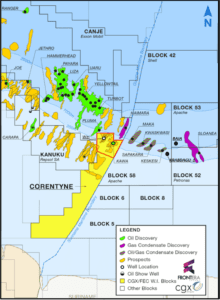 The Wei-1 well is located approximately 14 kilometres northwest of the Joint Venture's previous Kawa-1 light oil and condensate discovery and will target Maastrichtian, Campanian and Santonian aged stacked sands within channel and fan complexes in the northern section of the Corentyne block. Frontera said the Wei-1 well will appraise both the Kawa-1 discovery as well as explore additional opportunities within the Corentyne block.
The Corentyne Block appears to be the best bet for Guyana's first offshore development outside of the Stabroek Block. The costs associated with drilling the well are generally recoverable if the project moves to production.
The Joint Venture's time with the Corentyne Block would have run out late 2022. But the government approved an application to investigate the potential commerciality of the Kawa-1 discovery, thereby granting a two-year extension.