Guyana's Auditor General, Deodat Sharma and the South American country's Government are at odds over funding of the Audit Office. This, in light of the fact the country is yet to begin any audits as mandated under its petroleum laws.
Asked on Thursday about special considerations for additional funding for the Constitutional Office, the Guyana Government's Minister of State, Joseph Harmon, told media operatives, "the Auditor has to make his case."
Following the recent approval of the annual allocations for the Budget Office by the Guyana Parliament, Auditor General Sharma lamented the loss of more than $63M in requested funds for that Constitutional Agency, since it will hinder the preparation of the Office to audit the emerging Oil and Gas sector.
Mr. Harmon, when asked about additional funding on Wednesday, told media operatives the State does not interfere with or dictate the work of the independent body, "therefore the Auditor General must know how he is to fashion his application for funding for the work which he has to do; he has to identify in his framework what it is he needs to do."
The Guyanese State Minister said, "If he (Sharma) needs to be auditing a new industry, then he has to make a case for new funding for that."
According to Mr. Harmon, "we were in an economy which was based on a few items and now we are moving to another type of economy and therefore all entities including the Auditor General must recognize that and make their application at the appropriate time."
Mr. Sharma following the passage of the annual allocations for 2018 had told OilNOW the shortfall in what was requested will in fact stymie the work of the office.
The National Assembly approved a $783M allocation for the Audit Office for 2018. The Auditor General said that the shortfall in what was requested is certainly a blow to that agency since it is yet to begin any audits in the sector.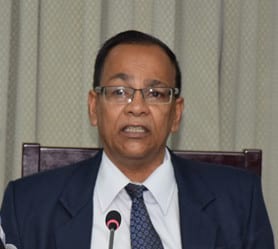 "The reduced funds will directly affect my office since we have to shift to doing more work in the Oil and Gas Sector…if you cutting us, you affect us in doing our work including carrying out audits in the new sector."
He told OilNOW "Oil is going to take a huge amount of auditing, so far we have not started any aspect of it…there are already so many agreements, so we will need more staff, we will need more money."
Finance Minister Winston Jordan in presenting the lump sum allocation for a vote by the Guyanese legislators had indicated to the House that the amount of $783.8M set aside for the Audit Office "takes into account the economic outlook for 2018 revenue, expenditure and growth in the economy, challenges in implementation encountered 2017."