ExxonMobil, through its philanthropic arm – the ExxonMobil Foundation, will be looking to continue its efforts to create and implement developmental programmes to benefit Guyana. 
This will be done through the many partnerships that the company has been forming in the South-American nation. So says President of the ExxonMobil Foundation, Kevin Murphy. 
On Monday, August 6, 2018, Conservation International-Guyana's (CI-Guyana) 'Guyana Resilient and One (GRO) initiative' funded by a US$10 Million grant from the ExxonMobil Foundation was launched at the Pegasus Hotel, Kingston, Georgetown. 
The initiative, which will be implemented in partnership with the University of Guyana and Arizona State University, is aimed at delivering human development and conservation outcomes in order to secure Guyana's future for generations to come.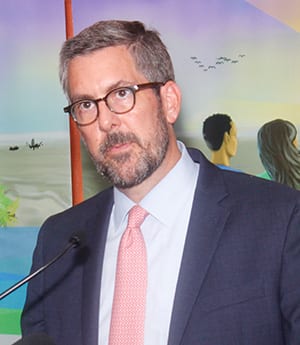 Speaking at the launch, Murphy said that the funding was provided "because Conservation International is uniquely positioned to help Guyana achieve its sustainability goals." 
"We look forward to working with you in benefitting from your knowledge and expertise and helping institute programmes to benefit the country," he stated.  
According to Murphy, "the Guyana Resilient and One Partnership will be designed to balance economic growth and responsible development with management of the country's impressive ecosystems," adding that "this collaboration will support conservation priorities for the country as well as education and training for sustainable employment." 
The launch, he iterated, "is an example of how oil and gas development can both contribute to the growth of the economy and support practical conservation goals." 
He further added that "it will help ensure that community-supported conservation and job training projects are developed in ways that are sustainable and measurable for progress in Guyana."