Net zero by 2050, an ideal popularised most recently by the International Energy Agency's (IEA) landmark report of the same name, is a vision for the world to collectively trap more carbon dioxide than it emits. This would be done through targeted interventions around the world, by governments and companies, to ensure the world's development pushes onward with the utilisation of cleaner forms of energy. The goal behind net zero by 2050 is to limit the global temperature rise to 1.5 degrees Celsius.
But before this ideal was conceptualised, Guyana had already achieved net zero status, meaning it traps more carbon dioxide (CO2) than it emits. And that is all thanks to its forests. According to Guyana's Low Carbon Development Strategy 2030, the country's 18 million hectares of forest store over 19.5 gigatonnes of carbon dioxide (CO2).
Senior Director for Climate and REDD+ at the Ministry of Natural Resources, Pradeepa Bholanath has said, while discussing the development of Guyana's oil and gas sector, that even if Guyana has 10 floating production, storage and offloading (FPSO) vessels producing oil offshore, their collective emissions would not eclipse the carbon sequestration service provided by Guyana's forests.
Bholanath noted that the carbon emissions for a single floater would amount to approximately 2 million tonnes annually. To carry the point home, she explained that it would take 20 years for the emissions of five FPSOs to amount to the volume of CO2 stored by Guyana's forests in a single year.
This exceptional forest cover is due to a purposeful government initiative, spanning multiple administrations to keep the country's deforestation rates among the lowest in the world. The statistics show that over the last decade (2010-2020), Guyana's rate of deforestation in any given year has not exceeded 0.08%, while the global tropical deforestation rate has exceeded 0.5% every year.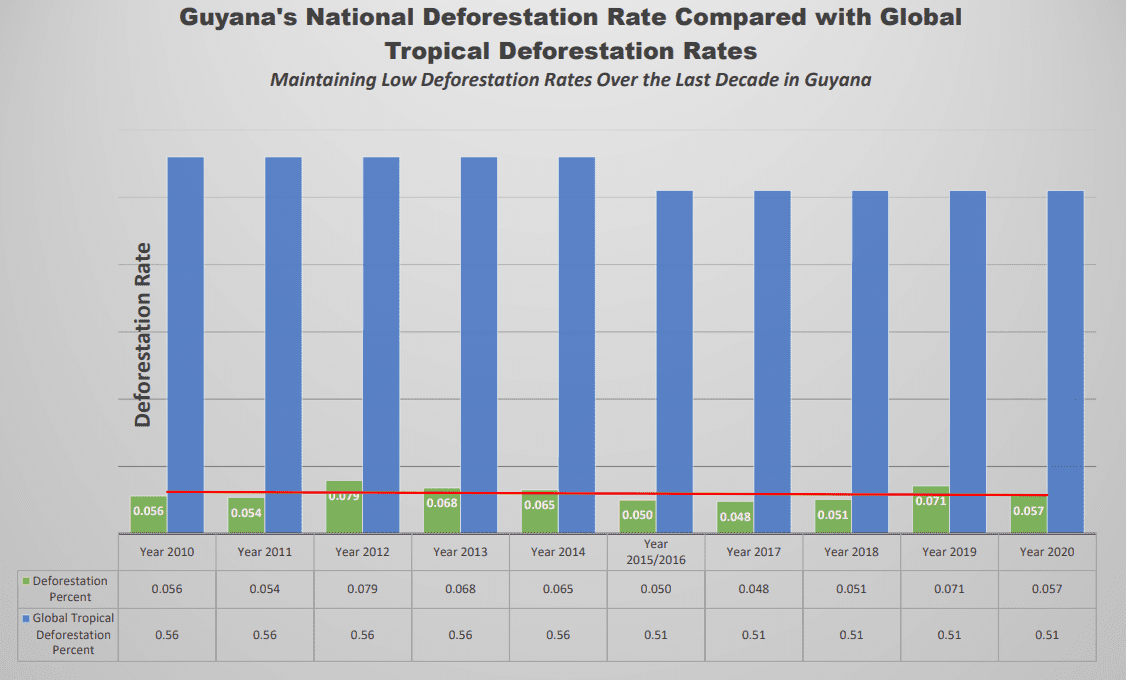 President Dr. Mohamed Irfaan Ali has said that though forest carbon services are a tremendous good on their own, they come at a sacrifice to development, which Guyana has maintained for the global good. Government says that it has given up many largescale opportunities in agriculture, mining and infrastructure by refusing to allow deforestation to the extent of many countries around the world, so it could provide crucial carbon sequestration and ecosystem services.
New oil producer serious about low carbon goals, finalizing 2030 strategy | OilNOW
Guyana has come up with another way to monetise its forest endowment – the sale of carbon credits. It plans to use the proceeds from the sale of its carbon credits to fund LCDS initiatives, just as the funds it received from Norway over the years, were and continue to be used to fund low carbon development objectives. Building on experience it gained after being paid by Norway for maintaining its pristine forests, Guyana pushed for the operationalisation of the global forest carbon market last year at the 26th Conference of Parties (COP26) of the United Nations Framework Convention on Climate Change (UNFCCC) and intends for its extremely valuable forests to underpin the implementation of its low carbon development strategy.