ActionINVEST Caribbean Inc., has launched the fourth edition of its Who's Who in Guyana Business Directory – 2023 Edition.
Dr. Vishnu Doerga, Chairman of ActionINVEST Caribbean Inc., told OilNOW on Tuesday that the investment guide focuses on 14 key sectors that are poised for exponential growth in light of Guyana's offshore oil and gas developments. He said these include the construction, financial services, and agriculture industries.
"This edition also provides insight into a bit of our history, where we are today because of the significant oil discoveries and the projections for future growth. This edition, as with its predecessors, also serves as a directory for locals and foreigners to find the right investors to do business with," the Chairman stated.
Dr. Doerga shared that ActionINVEST has done about 12,000 hard copies which get distributed countrywide but was keen to note that the website is attracting a worldwide audience. He said the website received significant viewership from companies in the USA, United Kingdom, Jamaica, Canada, Trinidad and Tobago, and of course, Guyana.
Guyana's meteoric rise mirrors 20th century economic boom of Saudi Arabia, Venezuela – historian | OilNOW
"We had over 1 million visits to the website and a lot of traffic going to all the companies. In fact, Mr. Faizal Ally, Chief Executive Officer (CEO) of the A. Ally's & Sons retail stores was the most searched company. SBM Offshore was the number one clicked company on the page followed by Mercy Hospital and Bounty Farms. So, it is an interesting mix," the Chairman stated.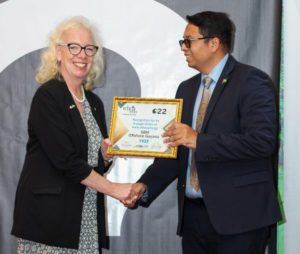 He noted that Mr. Martin Cheong, Guyana Country Manager of SBM Offshore, was also the recipient of the company award for most clicks. On his LinkedIn Page, Cheong said that SBM Offshore is proud of the recognition, adding, "It's great to see the positive impact our organisation is making towards building the resilience of Guyana's business community."
SBM Offshore is first major Exxon contractor to receive approval for local content master plan | OilNOW
Meanwhile, Ally was recognised with an award for the most impressions via the website.
The Chairman said he believes the magazine is timely and relevant. Most times, even for domestic data or statistics, investment information must be accessed from several government agencies' websites. The Who's Who Business Directory aspires to be a one-stop shop with reliable information that is easily digestible.
The latest edition of the business directory was officially launched on Sunday, November 20, 2022, at the Guyana Marriott Hotel. In conjunction with the launch of the Who's Who in Guyana Business directory, was the reveal of Who's Who News located on the whoswho.gy website. There, users can access the latest news on industries and companies first-hand from in-house editors.