ExxonMobil's Liza Phase 1 and 2 projects have been exceeding expectations in recent months. Collectively, the projects peaked at 391,000 barrels of oil per day (bpd) on certain days in August, or 31,000 bpd above initial projections, according to Guyana's Petroleum Management Programme.
Liza Destiny, the Liza Phase 1 floating production storage and offloading vessel (FPSO), designed to produce around 120,000 bpd and optimised to 140,000 bpd, has been observed producing as much as 153,000 barrels on some days.
Likewise, Liza Unity, the Liza Phase 2 FPSO, designed to produce approximately 220,000 bpd, has been producing as much as 239,000 bpd.
Both vessels are built and operated by SBM Offshore.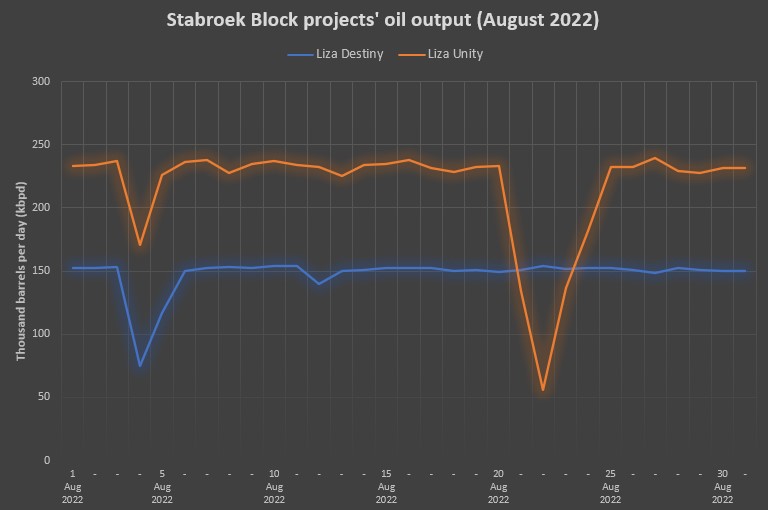 The average combined production from these projects, observed in the eighth month of 2022, is 364,820 bpd. This amounts to a total in excess of 11.3 million barrels produced in August.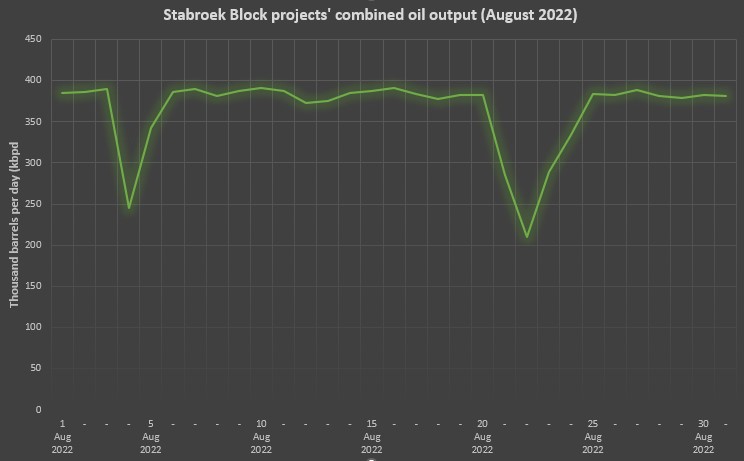 This represents a steep increase in the rate of production from the first half of the year, in which Guyana produced just over 5.7 million barrels per month. The increase is due to the introduction of Liza Phase 2 in February, the optimisation of Liza Phase 1 in the same period, and a gradual ramp-up of production for both FPSOs after they achieved background flare.
ExxonMobil is the operator of the Stabroek Block, with 45% interest, while Hess and CNOOC hold 30% and 25% respectively.
Guyana's oil sector grows 73.5% in first half of 2022, with 34.6 million barrels produced | OilNOW
The price of Liza Crude jumped between US$92 and US$103 per barrel in August. At an average price of US$95 per barrel, the quantity of crude produced is easily worth US$1.07 billion.
In its latest economic review of Guyana, the IMF projected the value of crude produced for the year at approximately US$9.3 billion at an average price of US$99.90 for 93.4 million barrels.
Oil is expected to account for 60% of Guyana's Gross Domestic Product (GDP) in 2022.