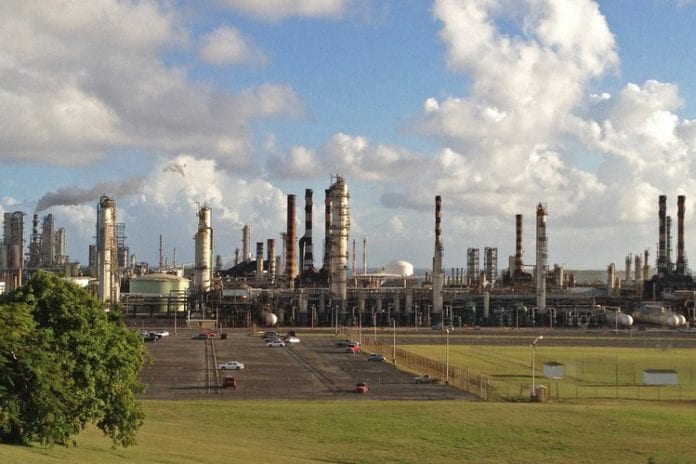 Senators in the United States Virgin Islands are concerned that a sum of $70 million representing an upfront payment for restarting operations at the refinery at St Croix has not been made and there is uncertainty as to when this payment will be forthcoming. Further, they feel that they were rushed to ratify an agreement for the restart of the refinery operations without having enough information.
According to a news report from St Croix Source, Budget Director Julio Rhymer and members of USVI Governor Kenneth Mapp's financial team were days ago testifying to the Finance Committee about an amended 2019 budget that adds $38.5 million in new spending that the new refinery operations will finance – operations that have not yet begun or have even been guaranteed.
The Legislature had in July approved a new agreement with ArcLight Capital, owners of Limetree Bay Terminals, for the possible restarting of part of the Hovensa refinery on St. Croix, which shut in 2012, reports said.
The Mapp administration had presented to the legislature an agreement governing how the refinery would operate and how it would generate revenue for the government. The report said that ArcLight and Limetree Bay planned to spend $1.4 billion and possibly start work in September.
In that agreement was a promise of $70 million upfront, including $40 million as a loan. Further, when he had announced the proposal on July 2, Mapp had emphasized that the $70 million was an upfront payment.
However, the report said that the text of the new agreement with Limetree Bay said it will pay the $70 million "on closing."
On Tuesday August 28, Senator Novelle Francis (D-STX) asked first about the $70 million, to which Rhymer replied, "The funds haven't moved yet. That has been pushed back toward the beginning of October or something like that."
When Francis asked whether there was a reason for the push back, Rhymer replied, "I think there are several. I think the primary, though, is they are waiting to finish up the negotiations with the actual franchisee that is going to be running the operations."
When Senator Tregenza Roach (D-STT) asked Finance Commissioner Valdamier Collens if he had a closing date for the deal and the funding, he said, "Not at this time."
"So you are saying this money that was represented as coming to us "immediately" as you used the word in July, it could be later than October?" Roach asked, to which Collens responded, "The money was always contingent on ArcLight securing the deal with an operator which they have not done yet. When that happens then it will be immediate."
According to Roach, there was nothing in Collens' July testimony suggesting the deal hinged on negotiations with a franchisee. "I am surprised to hear that we haven't gotten the $70 million because it was represented as being an immediate up-front payment and that it could possibly occur in October or some other time because there is no set date for closing on this agreement that we were rushed to ratify before the primary election," Roach said.
It is envisaged that under the agreement with ArcLight Capital, approximately $1.4 billion will be invested to refurbish the existing refinery over the next 18 months. This investment is expected to create more than 1,200 local construction jobs.