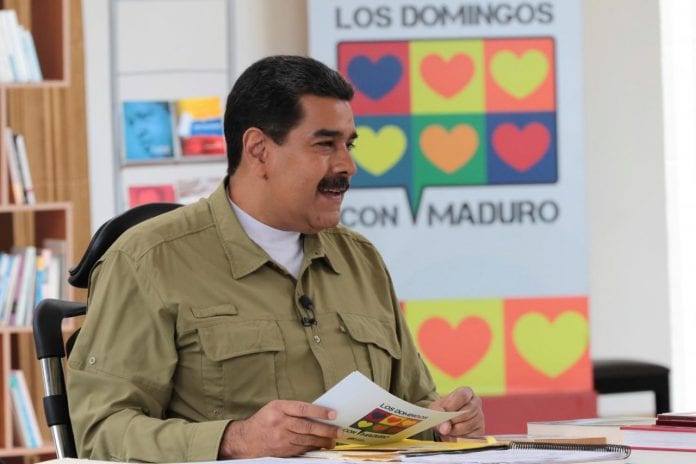 (Reuters) Venezuela's cash-strapped government said its plan to refinance some $60 billion in bonds was successfully underway after a creditors' meeting in Caracas but a rating agency declared the nation in selective default over missed coupon payments.
President Nicolas Maduro's negotiating committee met briefly with investors in Caracas on Monday but offered no firm proposals on its intention to alleviate Venezuela's crippling foreign debt amid an unprecedented economic meltdown.
"The process of refinancing Venezuela's foreign debt began with resounding success," the socialist government said late Monday, complaining about U.S. financial sanctions and unfair assessments from international rating agencies.
The 100 or so participants at Monday's meeting included bondholders from Venezuela, the United States, Panama, Britain, Colombia, Chile, Argentina, Japan and Argentina, it said.
"The start of this refinancing of our debt ratifies our full intention to comply, as we have always done, with all our obligations," the government statement added.
Bondholders saw things differently.
Participants in the meeting came away still confused over how Venezuela plans to avoid a default, given the parlous state of its finances, and how any refinancing could be worked out, given U.S. President Donald Trump's sanctions.
The U.S. measures essentially block the issuance of any new Venezuelan debt, while there are also sanctions on its chief negotiators, Vice President Tareck El Aissami and Economy Minister Simon Zerpa, on drug and corruption charges.
"Nothing of substance happened," said Raymond Zucaro, chief investment officer at Miami-based RVX Asset Management, who did not attend Monday's meeting. "The patient is still on a critical life support system."
While Maduro has said repeatedly that Venezuela will honor all foreign debt, some analysts suspect he may in fact be laying the groundwork for a default that he can blame on Trump and the domestic opposition, who have lobbied for global pressure.
"He invites all bondholders down and then it becomes clear they're not going to be able to work out a refinancing," said Jan Dehn, head of research at Ashmore Investment Management.
"He can say, 'Well, look, I tried. I showed goodwill, the bondholders showed goodwill … everybody tried to get together but unfortunately because Uncle Sam is not playing ball we can't do it.'"
RATINGS AGENCIES CHIDE VENEZUELA
Further complicating the situation, S&P Global Ratings declared Venezuela in selective default after it failed to make $200 million in coupon payments on its global bonds due in 2019 and 2024 within a 30-day grace period. The agency warned there was a strong chance it would miss further payments within three months.
Bondholders told Reuters on Monday they had not yet received payments on the 2019 and 2024 bonds but were unconcerned about the delay, which they said was partly due to increased bank vigilance of Venezuelan transactions in the wake of U.S. sanctions.
S&P said it lowered Venezuela's long-term foreign currency rating to 'SD', and cut its long- and short-term foreign currency sovereign credit ratings on the Bolivarian Republic of Venezuela to 'SD/D' from 'CC/C.
"Our CreditWatch negative reflects our opinion that there is a one-in-two chance that Venezuela could default again within the next three months," S&P said in the statement.
The rating agency said it would raise its long-term foreign currency sovereign issuer credit and issue ratings to 'CC' if Venezuela solved its default on the overdue coupons and remained timely on other payments before the restructuring is completed.
The Fitch rating agency also downgraded state oil company PDVSA [PDVSA.UL] due to "payment default" on notes due on Oct. 27 and Nov. 2 after "processing delays that resulted in bondholders receiving principal payments up to one week after the due date."
The government's statement lashed the rating agencies for following Trump's agenda and treating Venezuela harshly despite payment of more than $73 billion in foreign debt in the last three years.
Four years of recession in the South American OPEC member, fueled by failing socialist economics and a plunge in global oil prices, has taken a toll on Venezuelans.
Many citizens skip meals or suffer from malnutrition and preventable diseases due to a severe shortage of food and medicine or because they cannot afford them due to triple-digit inflation.
Venezuela's bond prices showed a mix of small gains and losses on Tuesday, with the benchmark PDVSA 2022 up 0.290 percentage points.