Investors are moving ahead with plans to set up a modular oil refinery in Guyana with an initial capacity of 6,000 barrels per day and shares available locally at 100 Guyana dollars each.
The key stakeholder behind this project is Dr. Turhane Doerga, a Guyanese businessman with Surinamese heritage, who has decades of experience in the rice and food production industry. The Alesie Group, of which he is Chairman, will be putting up some of the financing for the project. Dr. Doerga is also the International Director of Prime Energy, the company behind the initiative.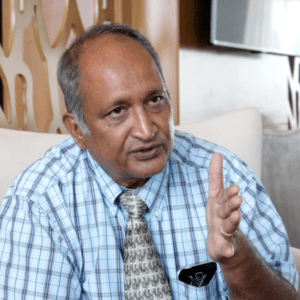 Prime Energy's ultimate objective, Dr. Doerga said, is to ensure as much Guyanese as possible have a stake in the company, and to demonstrate this commitment, "…the company plans to sell shares to Guyanese at a cost of 100 Guyana dollars each," he stated.
He told OilNOW during a recent interview that this project has been in the pipeline since 2011; before the first major oil discovery was made in the country by ExxonMobil. Circumstances at the time, he said, did not allow for the project to proceed, but with oil production now imminent, plans are moving full steam ahead.
The capacity of this type of modular refinery system ranges from 500 to 20,000 barrels per day, capable of producing Naphtha, Gasoline, Kerosine, Diesel 2, Heavy Fuel Oil 6 and Asphalt.  Prime Energy will be looking to initially produce Gasoline, Diesel and Asphalt.
"It is our intention to start with a small 6,000 barrels per day and as we go, people will see the quality – and we don't doubt that if it is indeed light crude (discovered offshore Guyana) – it is going to be top quality," Dr. Doerga stated.
Larger refining capacities will also be possible by paralleling multiple modular mini-refineries for maximum flexibility and reliability, he said.
The cost for the establishment of this modular refinery ranges from 100 to 200 million US dollars, depending on factors such as the final agreed capacity, chemical composition of oil (which guides design specifications) and intended end products, Dr. Doerga stated. Six months after the contract is finalized the modules can be shipped to Guyana and 6 weeks after that, the refinery would be assembled and ready for testing.
A consultant hired by the Guyana government to look into the feasibility of setting up a large refinery had said in his findings that such a facility could cost as much as 500 million US dollars. Dr. Doerga believes that more emphasis should have been placed on the modular-type refineries which are less costly to set up and ultimately results in more benefits to the country and people.
"When you look at Nigeria today, Nigeria said…this is my oil and I am gonna refine it right here because I need fuel for my people too. I am not gonna export my oil and then import it back," he pointed out.
The proposed location for the modular refinery is the mining Town of Linden, located in Region Ten, where Prime Energy will be looking to use the prospect of cheap energy from its refinery, to undertake bauxite processing.
"The vision we had since 2011 is that if we refined the oil here, one of our main industries which nobody can take from us…is bauxite ore; we can start producing it now because we have affordable energy…we can start making the aluminum and end products here," he said.
Prime Energy will be undertaking this project in association with CHEMEX LLC and Kuai Energy Systems.
Chemex Modular, LLC, is a Texas-based company and worldwide supplier of modular refineries, gas processing and plant measurement systems, while Kuai Energy Systems is an international developer and supplier of electrical power generation systems, oil and gas modular refineries, renewable energy systems and waste to energy systems.