Managing Director's Message: Mr. Javid Ramcharitar
Theme: "Together we can make a difference"
Good Morning Ladies and Gentlemen.
It is indeed a pleasure to be here with you this morning at this Pinktober 5K and 10K Walk/Run 2017, organized by the Guyana Cancer Foundation.
As Managing Director of JSL International, allow me to say how very pleased I am to collaborate with the Guyana Cancer Foundation on this Pinktober event, designed to promote awareness against cancer and to endorse the vision and iniative that this noble foundation represents.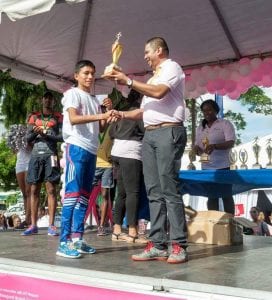 At this time, allow me to recognize the President and Founder, Ms. Bibi Hassan, a woman of tenacity and a survivor herself, who represents a pillar of strength and who continues to be an advocate for the fight against cancer and to promote awareness of same.
Ladies and Gentlemen, the impact of cancer to our society is phenomenal and it is our belief at JSL International, that everyone has a role to play in this ongoing fight and the many ways it affect the lives of people everyday.
I would like to recognize and commend GTT and all other corporate entities who has come on board to support this worthy charitable cause.
I want to especially recognize the cancer survivors who are here with us today, for your remarkable strength and determination in your commitment against the fight against cancer.
To the hundreds of participants and volunteers of this event, who continue to give of your time and selfless efforts towards this, hats off to you.   This is truly remarkable.
It leaves me to congratulate one of our young Champion, Ms. Mekyla Belgrave who is an exemplar survivor for the past 12 years and has been an ardent supporter of this annual walk in the fight against cancer.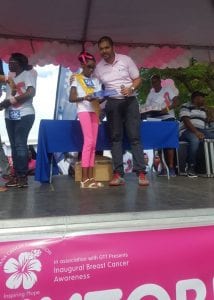 Congratulations Mekyla!  It is my absolute pleasure to announce that JSL International has graciously agreed to lend support to improve the overall quality of her life, as she integrates and develop in society.
Ladies and Gentlemen,
JSL International takes pride in its Corporate Social Responsibility.  The management and staff understands and appreciate that as a Corporate Entity, our responsibility extends to social accountability.
We are committed to developing and maintaining sustainable relationships with our various communities and as we do our part in empowering and inspiring people, we live the life of the Golden Rule,
"Treat others the way you want to be treated".
Let me once again reiterate JSL's commitment to Guyana Cancer Foundation and emphasize on this year's theme,
"Together we can make a difference"
I would like to call on all corporate entities to join us in the fight against cancer.
Together, we can send the message to every person who is diagnosed with cancer, that there is hope, there is help and you are not alone. We do look forward to partnering with you on future initiatives.
I thank you.