In November, Guyana welcomed trade missions from the United Kingdom, USA, and Canada. Similar engagements are planned with France and India, indicative of the government's position that the country is "open for business."
Senior Minister in the Office of the President with Responsibility for Finance, Dr. Ashni Singh recently provided greater context on the importance of these missions. According to the official, these trade missions serve a treble purpose. Firstly, they serve as an acknowledgment that Guyana's exponential growth will need a "healthy dose" of imported expertise to ensure its efficient development. Indeed, this approach is not a novel one as it is also part of the blueprint used by nations such as Qatar, the United Arab Emirates, and the Kingdom of Saudi Arabia to ensure their hydrocarbons translate into transformative development.
Secondly, Dr. Singh explained that these missions pave the way for Guyanese businesses to connect with firms that have established networks with oil majors and their tier-one contractors. Guyanese authorities have long acknowledged that the creation of partnerships and synergies with seasoned players is a sure way to fast-track capacity building.
Thirdly, if Guyana is to achieve its goal of having a diversified economy, then it will need to lean on the knowledge and experience of key industry pioneers.
The foregoing was explained by Dr. Singh at a welcoming ceremony for a Canadian trade mission last month. There, he pointed out that Guyana is going through a transformation that has scarcely been seen in its history, or anywhere else in the world.
The official said, "There are few countries in the world that at any point in their economic history would have grown at rates of 20 percent in real terms over a sustained number of years. Guyana today is expected to grow in real terms in 2022 by a staggering 56% and over the next three to four years, by an almost equally staggering 25%."
Dr. Singh said this growth rate is based on current proven reserves comprising 11 billion barrels of oil equivalent resources. The senior official said the government expects this resource base to increase significantly since ExxonMobil and its partners are pursuing further exploration on the Stabroek Block. He said these efforts to unlock sweeter, light crude will be complemented by the nation's maiden auction, which was launched on December 9, 2022.
With such a production trajectory, Dr. Singh said Guyana, by any measure, is undergoing a meteoric pace of growth.
"What this does is that it creates opportunities for business around the world. We have never made a pretense of the fact that we are still learning about the oil and gas industry," Dr. Singh said. Considering being at this stage of the learning curve, Dr. Singh has explained that Guyana is in need of the right partners to ensure its prosperity and development. At the same time, these potential partners and independent players must also show respect for the Local Content Legislation.
Visiting missions from the UK, USA and Canada have stated that they are keen on forming partnerships that provide "win-win" outcomes. Partnership agreements, in some instances, were also signed as a tangible reminder of this stated commitment.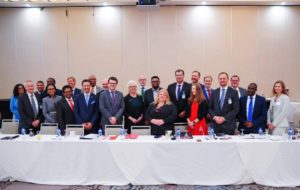 On November 16, 2022 Guyana and the UK inked a partnership agreement to bolster relations in trade and investment relations. This was the second UK trade mission to Guyana; the first being in February. Out of that trade mission, the Georgetown Chamber of Commerce and Industry (GCCI) had signed a memorandum of understanding (MoU) with the Caribbean Council, the longest-established London business organisation.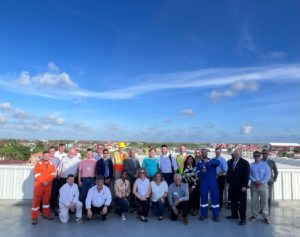 In November as well, the US Embassy in Georgetown and the Louisiana District Export Council (LDEC) led the largest American trade delegation to Guyana. While an agreement was not signed, the US Embassy in Guyana said more than 25 private sector leaders from across Louisiana and the United States connected with business leaders and government officials in Guyana. Critical discussions were also had with economic developers, industrial training experts, Louisiana state officials, as well as US government officials.
In late November, a Canadian trade mission with interests in energy, infrastructure, and procurement was also here late last month seeking partnerships with Guyanese. Some of these companies included WTG Canada, OPAS Mobile, North Star Associates, Shield Group of Companies, NetBenefit Software, Radient360 Solutions, DyTech Offshore Project Management Inc., and Blue Water Group. This engagement followed five previous missions to Guyana from Newfoundland and Labrador that saw several of the members of Energy NL creating partnerships and linkages in the new oil-producing country.
CONCLUSION
The increasing number of trade missions to Guyana presents significant opportunities for economic growth.
Without question, these relations hold the potential to boost Foreign Direct Investments (FDI) across various sectors. The Bank of Guyana, the nation's chief financial regulator, had said at half year that the country's FDIs saw a whopping 47.2% or US$629.7 million growth in the first six months of the year to US$1.964 billion. In spite of the challenges investors faced with COVID-19 and the Russia-Ukraine war, these investments are expected to increase for Guyana, home of the fastest-growing super basin.
Guyana has accepted early on, that the sheer size of her endowments, and the potential for further amplification, needs a "healthy dose" of imported foreign capabilities.
Such admissions, and well-executed policy decisions, are already proving that Guyana is not only on the right path for sustainable and transformative growth, but she is stealthy avoiding the mistakes of other failed oil states.
About Energy Insights
From the people who bring you day-to-day coverage through OilNOW – the Caribbean's premier oil, gas and energy information service – the Energy Insights column offers perspectives and analyses on the evolving energy sector in the South American/Caribbean region, and further afield.