Canadian-based oil and gas exploration company CGX Energy Inc. will soon recommence exploration work offshore Guyana and aims to drill as much as 6 wells over the next two years. CGX had come up empty-handed on previous attempts to hit a payload offshore the South American country, and that, coupled with changing financial conditions with its major shareholder, Pacific Exploration, saw a halt in further exploration activities.
But all that has changed. ExxonMobil and its partners have derisked the area by making significant discoveries of high quality crude in a location known as the Stabroek Block and prudent financial management has seen the fortunes of CGX/Pacific Exploration improving, moving from zero market capitalization to $2.5 billion.
Dr. Suresh Narine, CGX Chairman, says the company is now making a major comeback.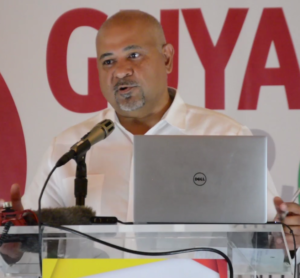 "This is an extremely healthy company and suddenly CGX is back in the game," Dr. Narine said.
The oil and gas junior has spent the past four months redoing its geology and is on the verge of recommencing drilling. "Our work plan calls for two wells offshore within the next 2 years. I can tell you that we are looking at six," he said.
The CGX Chairman made these disclosures to participants of Guyana's first oil and gas conference and exposition held in March at the Guyana Marriott Hotel. The conference, the next of which is scheduled for March 18-20, 2018, was organized by the Guyana Oil and Gas Association (GOGA).