While laying the foundation to realize its fortunes and becoming a hemispheric leader in the oil and gas industry, Guyana has also been listening keenly to the advice coming from experts in the field.
Billy Joe Pellegrin, the Corporate Quality Health Safety and Environment (QHES) Director of Edison Chouest Offshore (ECO), a worldwide marine transportation solution provider, reminded that in the business of oil and gas, safety must be a priority.
Speaking at Guyana's first Oil and Gas Exposition in March he said, "Look at how you are demonstrating care, look at how you are layering your safeguards associated with it. I don't mean putting more and more PPE (Personal Protective Equipment) on a person or more and more hardhats and protection… all that's admitting to, is that you have no other way of preventing that guy from getting hurt so ultimately you put something on him to lessen the impact."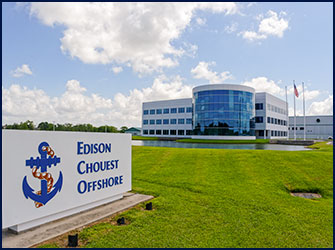 ECO has a well-established blueprint of safety measures that it applies to marine vessels, shipyards and seaports where investment and employment opportunities are likely to be derived in Guyana with the coming of oil and gas.
An onshore supply base is slated for construction this year in Guyana at Crab Island, in the Berbice River. This promises employment for approximately 600, while a contract was signed this year for a Floating Production, Storage and Offloading (FPSO) facility that will supply components to the offshore production vessel.
"We're talking about care and how we build a culture, regarding the employees and co-workers we are going to have, the communities we are going to work in and those individuals that will hopefully go home to their families with all their fingers and toes," Pellegrin said.
ECO supports the majority of the U.S. Gulf deep-water operations and an expanding global market with its fleet of highly specialized new generation offshore service and supply vessels. On board these vessels, ECO ensures that certain Standard Operating Procedures are followed, all aimed at mitigating human error.
"People are going to make mistakes; all of us have made them. We make sure that we build the system to not let those mistakes ultimately cause you bad outcomes. We can predict manage and prevent errors…it means we have to use the data, use the "near misses" to actually investigate, understand and prevent a lot of those situations from happening," Pellegrin advised.
With two key oil discoveries made so far by US oil major, Exxon Mobil offshore Guyana and ongoing exploration activities taking place in the Stabroek Block, oil production is set to begin by 2020 in the South American country. Exxon has indicated that their Operations Integrity Management System (OIMS) is a cornerstone of the company's commitment to managing Safety, Security, Health and Environmental risks and achieving excellence in performance.
Darren W. Woods, Chairman and Chief Executive Officer of Exxon says Risks to the environment have been reduced, with a remarkable decline in marine spills and continuing reductions in emissions.