The Guyana government is forging ahead to establish laws and the essential framework necessary to ensure transparency and accountability at all levels within the emerging oil and gas sector.
The country's Prime Minister, Moses Nagamootoo, recently outlined ongoing initiatives, which he assured, aims to deter corruption and misuse of oil resources. He made it clear that government is "very uncompromising as regards the avoidance of sleaze and malfeasance in public office."
These remarks come on the heels of major oil discoveries being made by US oil major; ExxonMobil 120 miles offshore the South American country, in an area known as the Stabroek Block.
Mr. Nagamootoo was at the time addressing local, regional and international participants at the inaugural Oil and Gas Conference and Exposition held at the Georgetown Marriott Hotel from March 26-28. The event was organised by the Guyana Oil and Gas Association (GOGA).
Transparency and accountability featured prominently at the forum in several of the presentations, including the Prime Minister's. This is particularly relevant in a country beset with allegations of institutional corruption, lack of transparency, accountability and poor governance.
Stressing priority on governance, political and legal structures to support and strengthen transparency in Guyana's oil and gas sector, Mr. Nagamootoo spoke of legislation being drafted to give the industry legal protection, and set up a petroleum commission as well as a national investment fund.
A Guyana Sovereign Wealth Fund (SWF) Bill has already been drafted and is expected to be soon available for public consultation. A SWF is a state-owned investment account that includes surpluses, official foreign currency operations, proceeds from privatisation, government transfer payments and/or receipts from resource export. The rationale for such funds is embedded in the nature of the oil and gas revenues. Hydrocarbon production can generate significant windfalls in terms of export earnings, which – if they exceed the economy's absorptive capacity – can cause inflationary pressures and an appreciation of the local currency, a phenomenon known to economists as the Dutch Disease.
'Resources must transcend'
While Mr. Nagamootoo acknowledged that there is some debate about the type of fund to be established, he assured that the "government endorses fully that a proportion of the proceeds from this new industry should go towards the future of our country to be invested in the development of strategically necessary resources – infrastructure, education and health and not just be accessed willy-nilly."
The administration is keen to ensure that the proceeds from the state's petroleum resources are not "gobbled up" by any administration or used for short-term gains to buy votes at National Elections.
"Too many stories have already been told in the world about the resource curse of countries that have been endowed richly with oil and gas resources and their political and government systems bred a disease that denied ultimately the benefits of the resources to the people," Nagamootoo related.
Despite this, he expressed optimism that Guyana would learn from these international experiences.
"We have to get it right…from the beginning…to ensure operations in Guyana will have national and international buy-in with best practices," he stated.
He lauded the establishment of GOGA, which comprises various civil society representatives and therefore should be free from political manipulation, as it seeks cooperation and alliances to build and improve Guyana's practices and operations in the oil and gas sector.
Mention was made too of Guyana's efforts to join the global Extractive Industries Transparency Initiative (EITI) whereby a Multi Stakeholder Group (MSG) was recently launched. The EITI is a voluntary initiative of international standard that promotes transparency, good governance and accountability in the use of oil and gas resources.
Locally, the MSG, which meets monthly, comprises four representatives each from government, industry and civil society. It is responsible for setting the mandate for EITI implementation, produce reports and ensure findings are publicised.
All of the initiatives, according to Prime Minister Nagamootoo, would enable involved organisations and entities to fulfil their responsibility to develop Guyana's oil and gas resources for the benefit of the nation and future generations.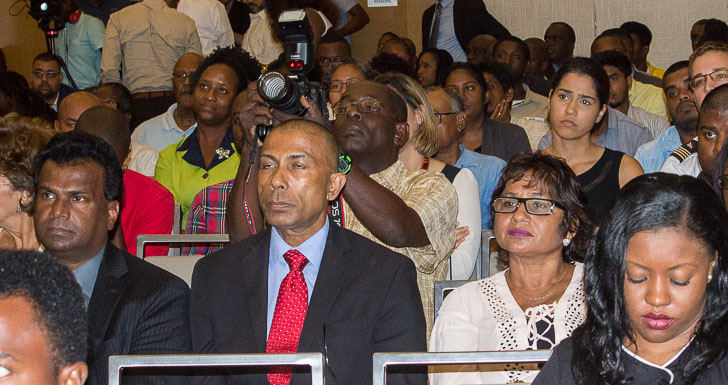 Civil society and Guyanese at large remain watchful at the measures being taken by government to ensure proceeds from oil production benefit the country and people. This is evident in the increasing number of people attending lectures in the last several months on the country's emerging oil and gas industry, being organised by GOGA.