Response to the International Energy Conference set to take place in Georgetown next month has been overwhelming so far with around 150 companies and four heads of state confirmed for the flagship event.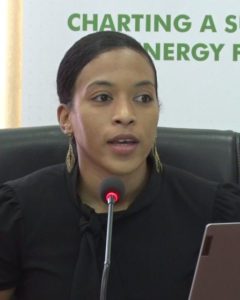 "We have about 150 companies registered, some include local companies as well as those coming from Asia, Africa and parts of the Caribbean," Angenie Abel, Chief Executive Officer for the event told OilNOW.
Key sponsors include ExxonMobil Guyana, GO Logistics Guyana, local telecommunications company GTT, SBM Offshore, Stena Drilling, TechnipFMC, Baker Hughes, among others.
OilNOW is also supporting the event as Networking Partner.
"We've received an overwhelming response so far from many companies and individuals which include our attendees and all of the speakers that are included in our agenda," Abel said.
Touching on what will set the event apart from previous oil and gas conferences and exhibitions, she said significant focus will be placed on a sustainable energy future and the event will feature a strong line up of speakers and key participants.
"This would be the first time we host four heads of state in Guyana for an Energy event: President Santokhi of Suriname, Prime Minister Mia Mottley of Barbados, President Nana Akufo–Addo of Ghana and His Excellency Dr. Irfaan Ali. We have a massive line up of speakers who are experts in their field which include persons like Mr. Darren Woods, Dr. Daniel Yergin, Mr. Robert Dudley, Dr. Jennifer Wilcox, just to name a few," the CEO said.
Exxon's Chairman to attend February 2022 energy conference in Guyana
She pointed out that having key policy makers and industry experts all in the same room, discussing and highlighting the developments for a sustainable energy future will be pivotal to the success of the conference.
"The aim is to facilitate all facets of the conversation that include the pathways and policies needed to shape this future," Abel said, adding that members of the public can choose to attend the conference or the exhibition.
"Attending the conference will give you access to the exhibition, however purchasing tickets to the exhibition does not allow you access to the conference. You can register to attend the conference at guyanaenergy.gy or call 640-5519 to purchase tickets in the upcoming week," she said.
The exhibition will feature local, regional, and international exhibitors, and tours to Guyana's national attractions will be arranged for the final day.
Organisers say they have noted the increase in COVID-19 cases in the South American country and will be taking all precautions in keeping with government regulations, as planning for the event moves full steam ahead.
The event will be held from February 15-18 at the Guyana Marriott Hotel.