Guyana offshore is set to get even busier in the coming months as preparations for Liza Phase 2 continue and preliminary activities for a third project at the Payara field get underway. This is in addition to an aggressive exploration and appraisal drilling programme that is being rolled out at the prolific Stabroek Block and a separate campaign currently underway on the neighbouring Canje Block license.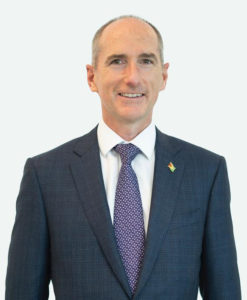 "We have, over the last three to four months, increased our number of rigs operating from four to six so we have a very active exploration as well as development programme," said Alistair Routledge, President of ExxonMobil Guyana, speaking at the recently concluded Aberdeen-Guyana Gateway.
Exploration drilling operations are being carried out at new prospects such as Pinktail-1, located 104 nautical miles (192.6 kilometers) offshore, covering an area of 0.29 square nautical miles, and Cataback-1 located approximately 104.88 nautical miles (194.24 kilometers) offshore, also covering an area of 0.29 square nautical miles. Additionally, the Stena DrillMAX is continuing its campaign at Whiptail-1 while the Noble Don Taylor will engage in drilling activities at Whiptail-2.
Exxon forges ahead with exploration drilling at Pinktail, Cataback
Meanwhile drilling of development wells for Liza Phase 1 – 17 in total – is almost completed and preparation for the arrival of the 220,000 bpd Liza Unity FPSO is underway. First oil from Liza Phase 2 is targeted for Q1 2022.
"We are very much focused on delivering 16 development wells for Liza Phase Two by the time we start up and we have actually started some of the open water works on Payara wells, so plenty of activities on the drilling front," Routledge said.
Sanctioning of Payara Development was one of the brightest lights in oil's dark year
When compared to the 17 wells for Liza Phase 1, approximately 35-40 wells will be drilled at two subsea drill centers for Phase 2 consisting of a combination of producers and injectors to support production of oil, injection of water and reinjection of associated gas.
World's first Fast4Ward FPSO will soon set sail from Singapore for 80-day journey to Guyana
The Liza Unity FPSO, the first oil production vessel to be built by SBM Offshore using its pioneering Fast4Ward® program, is expected to depart the Keppel Shipyard in Singapore soon, for Guyana. It is the second FPSO to be built by the Dutch floater specialist for ExxonMobil's Liza project.