As Guyana forges ahead with its low carbon development initiatives, the country is looking to train 75 women in Region Seven (Cuyuni – Mazaruni) and Region Nine (Upper Takatu – Upper Essequibo) to become solar panel technicians for a massive project to install tens of thousands of systems in hinterland homes.
Minister of Labour, Joseph Hamilton, communicated this to OilNOW during an exclusive interview on October 7.
He said the training programme is slated to commence in the upcoming week and will run for the next four months.
The women are being trained under the Women Empowerment in Energy Programme, a component of the Energy Matrix Diversification and Institutional Strengthening of the Department of Energy (EMISDE) Program, with a loan from the Inter-American Development Bank (Project No. GY-L1066 project).
This project will buttress the work under the Office of the Prime Minister, which is spearheading the installation of 30,000 150-watt solar energy units across hinterland communities in Guyana.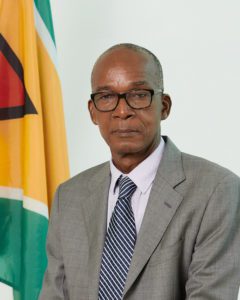 The Labour Minister highlighted that through this training programme, not only will women be upskilled technically, but they will be able to apply those skills that will directly benefit their communities and by extension, the country. The programme also fits hand-in-hand with the government's goals of better equipping the people of the nation through technical training and academic programmes.
"You don't wait for the jobs to do the training. You have to be prepared as a country. If you leave it to the system, all they would do is allow the men only to be trained. You have to ensure that women are trained too. The Ministry of Human Service had a hand to play in identifying the women to be a part of this project, the Guyana Energy Agency will facilitate, and the Board of Industrial Training under the Ministry of Labour will conduct the training exercise," Hamilton explained.
The project to install the 30,000 solar energy units will kick off early in 2023. It is being funded through a line of credit of US$7.2 million from the Government of India. In September, two companies tendered bids to supply the solar energy units.
In keeping with a massive growth agenda, the government says its energy use can increase fivefold by 2030. And with its transition plan, even in the face of expansion, the government says it can keep emissions at 2018 levels. It looks to achieve this through an energy matrix of renewable and clean energy, namely solar power, hydropower, wind energy, biomass, and the transformative Gas-to-Energy project.