Guyana's infrastructure boom will see urban settlements undergoing significant expansion over the years. But what does this mean for the country's carbon footprint?
According to the government's transition plan, outlined in the Low Carbon Development Strategy (LCDS) 2030, Guyana's energy use will increase fivefold by 2030, while its emissions stay at 2018 levels.
It said this will represent "one of the world's highest levels of decoupling of economic growth and fossil fuel use for energy."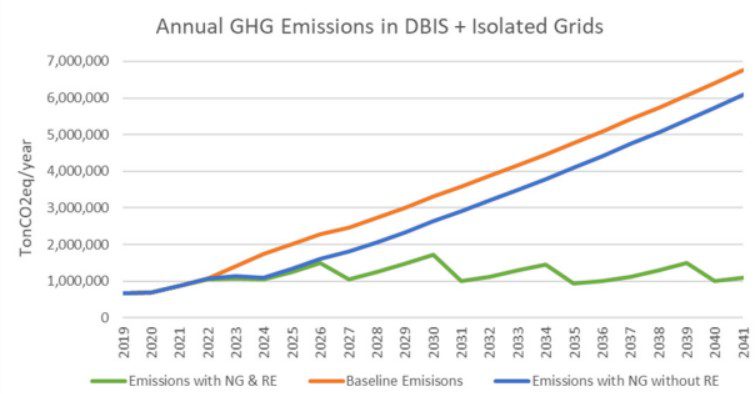 The Demerara Berbice Interconnected System (DBIS) is the largest of the public grids and accounts for 78% of the total cost, according to LCDS 2030. The DBIS peak power was 135.7 megawatts (MW) in 2021 and it is estimated that the peak load by 2025 will be 407 MW.
The DBIS currently has 205MW of firm capacity. However, some of that capacity is from aged generators with low reliability. It has been estimated that a new 300MW of firm capacity will be needed to cover the demand increase, the retirement of aged generators and to improve the grid's reliability.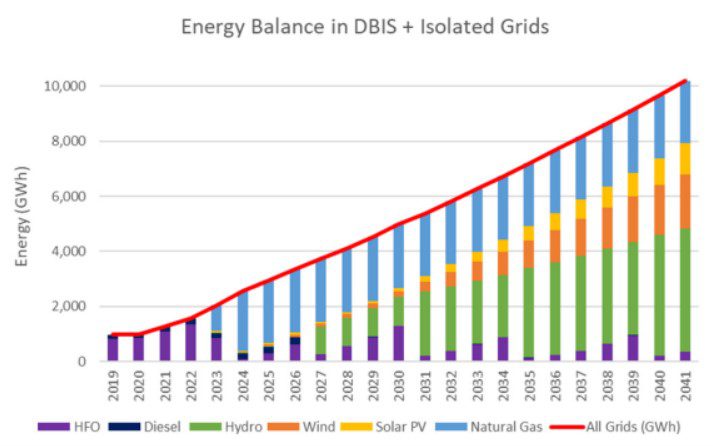 Guyana plans to use natural gas as a bridge fuel and will bridge a 300 MW power plant at Wales for this purpose. The Gas-to-Energy project would provide enough power to support the country's economic expansion from 2024, while renewable energy projects expand.
Gas will cut Guyana's emissions by more than half as demand for power set to triple – Hess | OilNOW
The first major renewable energy project will be the Amaila Falls hydropower project, at 165 MW. This is expected to be delivered in the lead-up to 2030, subject to the selection of a contractor by the government.
In the meantime, small-scale renewable solar and hydropower projects have already started rolling out, providing power for population centres along the coast and hinterland areas. The government will also deliver 30,000 solar photovoltaic units to hinterland communities, where populations are sparsely littered across vast expanses of land.
Guyana aims for 39MW of accumulated solar capacity in the next 3 years | OilNOW
In LCDS 2030, it is stated that if the transition does not occur, greenhouse gas emissions (GHG) and consumer costs will be very high moving forward, because of a high reliance on imported heavy fuel oil (HFO) and diesel for electricity generation in the 12 public grids operated by the state electricity providers, Guyana Power and Light (GPL) and the Hinterland Electrification Company Inc (HECI).
Expenditure on these fuels was approximately US$150 million in 2021, authorities said. But starting with the introduction of Gas-to-Energy in 2024, tremendous savings are expected for the government and consumers.