As debate continues in the South American country of Guyana on the fiscal terms outlined in the Production Sharing Agreement (PSA) with US oil major ExxonMobil, UK-based Wood Mackenzie and Norwegian headquartered research company Rystad Energy say the agreement is in line with frontier countries around the world.
In the current fiscal regime, the government collects its share through a 2% royalty and a 50% profit oil levy. Rystad Energy estimates that this will give the government 60% of the profit from the various projects (government take), while the remaining 40% will go to international E&P companies.
"On average, the government take for all offshore projects is around 75%, while rates in major producing countries such as Nigeria, Norway, Mexico, Indonesia and Trinidad are all above 80%. However, if we examine countries that only recently opened up for E&P activities – such as the Falkland Islands, Israel, Mozambique and Mauritania – we see that the government take is in the range of 45% to 70%," Rystad said in an April 12, 2018 report.
In order to attract investments from international E&P companies to kick-start their offshore ambitions, "frontier countries often need to sweeten the pot with favorable fiscal terms. Guyana has followed this pattern," Rystad said; a position also articulated by the International Monetary Fund (IMF) in a report commissioned by the government in 2017. At the same time, particularly in light of multiple oil discoveries, the IMF also suggested that the country should consider rewriting its tax law and modify PSA terms making it more favorable to the country.
"In retrospect, one can argue that the government has succeeded in generating the activity they were hoping for," Rystad said. The question going forward will be whether the Guyanese government – emboldened by its stunning exploration success over the past three years – will elect to alter its fiscal regime when future licenses are awarded.
A study conducted by industry analyst Wood Mackenzie also suggest that when compared to frontier countries around the world that were in similar positions as Guyana was prior to the first discovery in 2015, the government's share falls in the middle range. Wood Mackenzie's study was based on comparisons with over 70 frontier countries around the world.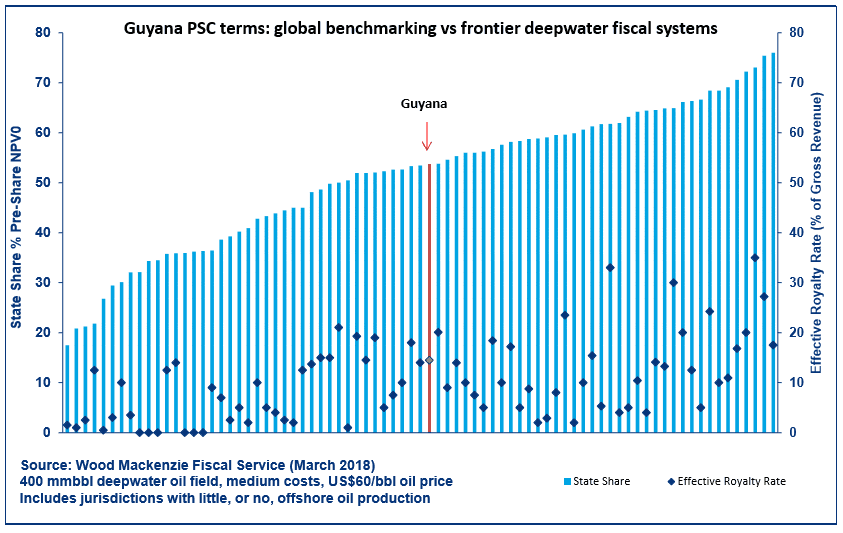 To date, ExxonMobil has discovered more than 3.2 billion barrels of oil in Guyana with production set to begin in 2020 with the Liza Phase 1 development. Multiple developments are also being planned involving the use of 3 FPSOs that could push production to 500,000 bpd in the latter part of the next decade, making the country a major player in the global industry.